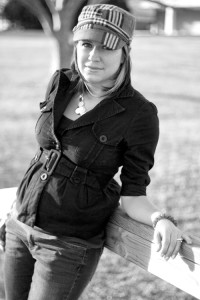 Becca J. Campbell writes New Adult (twenty-somethings) fiction that varies from Urban Fantasy to Thriller to Science Fiction. Her stories typically blend a taste of the fantastical with real-world settings and add a dash of romance for good measure.
She's always looking for a great speculative fiction read, and she holds a special place in her heart for any story that involves superpowers or time travel. Her passion is defying the limits of her own creativity.
Becca is also the co-creator of JuNoWriMo.com where you can join a vibrant community and write a novel during June.
Connect Online:
Author Blog | Amazon | Goodreads
Facebook | Twitter | Pinterest | Instagram | Google +
Empath (Flawed #1)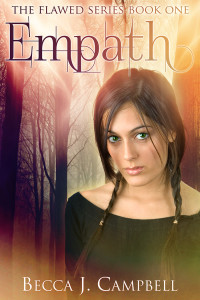 Supernatural empathy isn't a gift, it's a curse. Anywhere she goes, Jade's emotions are replaced by those of the people around her.
Jade grew up in a suburb of Colorado Springs, protected from other people by her parents. Now she faces college—and the world—with nothing to shield her from unwanted feelings.
When Cam, a classmate with a major crush on her, unintentionally hijacks her emotions, Jade struggles to keep from being carried away in feelings of attraction. When Ethan, a psychopath with a thirst for fear, fixates on her, the emotional impact could be lethal.
Caught in a deadly trap, Jade must untangle the emotions and find a way to use her empathic curse to overcome this killer or be overcome by him.
Purchase Empath:
Outsider (Flawed #2)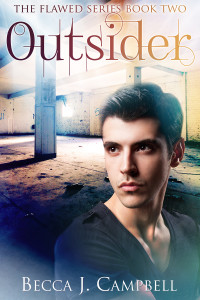 After a psychopath tried to kill his friends, Josh Schuyler figured 'normal' was far off. The real problem: Josh's friends have all acquired supernatural abilities, while he's still the same average guy.

Josh has always believed he was destined for greatness, but he's been out of college for two years without a clue of his purpose. After watching his friends and siblings develop superhuman traits, he wonders if he might be meant for something grand, too. Can Josh even hope for an extraordinary event in his own future? And how long must he wait for this transformation – if there is one?
When Alex met the Schuylers, she was grateful for new friends to whisk her away from her lonely life in California and give her an escape from her divorced, bickering parents and aimless future. But Josh won't drop his defenses, and Alex isn't sure she wants to trade her old life for this new, uncertain one.
Nicodemus has an amazing ability he's been milking for years to get whatever or whomever he wants. Things are going great until a young woman – Alex – inadvertently busts his latest swindle. Nic is furious when he discovers his power has been disabled, and he vows to find her in order to wreak his vengeance. She will be punished. All he needs is a little help from his friend, Ethan Black.
Josh has been waiting for his big break, or for the chance to be a hero, or just the opportunity to stand out in his own, extraordinary way.
Will Josh discover his purpose in time to stop Nic?
Purchase Outsider:
Protector (Flawed #3)
Protector focuses on Logan as he uncovers more about his parents, deals with difficult emotions he's bottled up for years, and tries to protect the woman he loves from a team of two unstoppable killers.
Coming summer of 2015.
Pulled (A Flawed Short Story)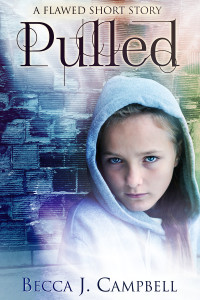 Eight-year-old Juniper has been labeled many things—troubled kid, orphan, runaway—but none of her foster families have known what she really is: a girl with a unique and brutally inconvenient ability to teleport.
Her spontaneous jumps are not only beyond her control, they get her into trouble. When Juniper disappears, no one believes her wild stories, so she's stopped trying to convince them.
One day when Juniper gets pulled away, finding her way back is harder than ever. Stranded on the side of a deserted highway, she must rely on her own instincts to determine who is a creepy stranger and who she can trust.
Resourcefulness may get her home, but is getting home enough when you don't have parents that love you?
Juniper knows something most people don't: there are others like her with unexplained abilities. Until now, she's exercised stranger-danger caution, but maybe these people can offer what she needs.
Will Juniper find a family she can share her secrets with?
Purchase Pulled:
Foreign Identity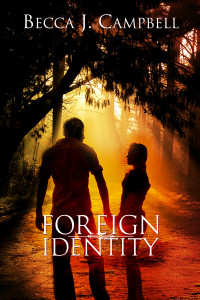 Cold. Confusion. Fear. This is how it all begins.
Waking up without your memory in a cell and bound by chains is terrifying.
Two nameless strangers, a man and a woman, find themselves imprisoned together. With no memories of their own identities, let alone their captor and tormentor, escape is the only option. The pair faces a bizarre labyrinth of rooms and clues that confuse more than they explain. Every discovery only brings more questions.
Who captured them? Why were they taken? What does their captor want from them? What can the riddles mean?
Who are they?
Lacking allies and options, the duo must learn to trust one another. Mazes, puzzles, and even strange, lurking creatures force them to rely on their wits–and each other–for survival. But survival isn't enough. They need answers.
Will the answers be enough? Will the truth bring them closer together, or drive them forever apart? Will discovering their identities finally bring them home?
Purchase Foreign Identity: