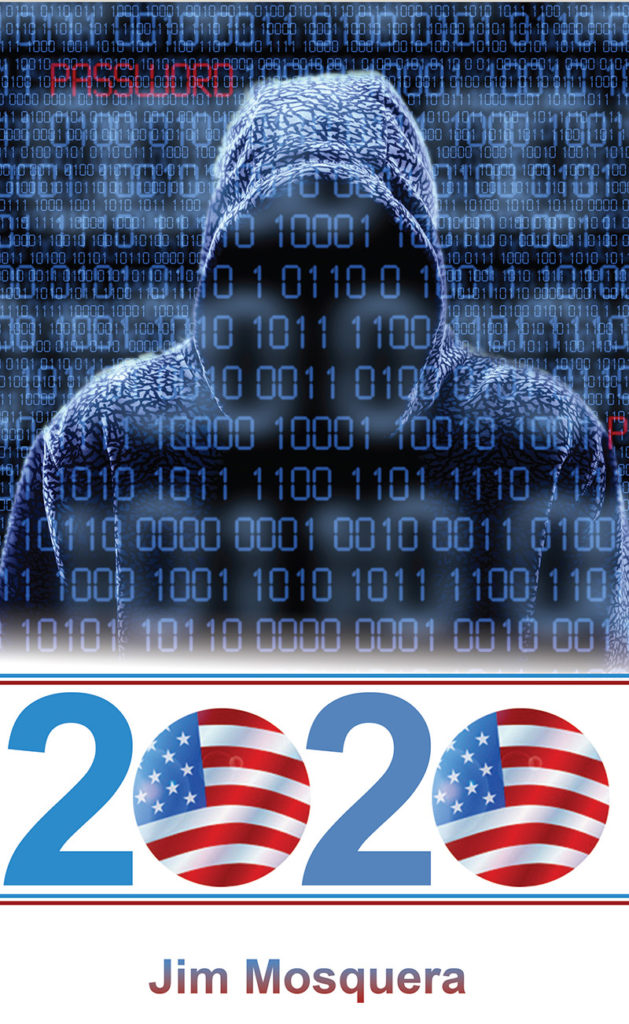 I published a couple of non-fiction books on the financial markets and economy in 2011 and 2015. This novel brings some of that content to life via characters.
Jim Mosquera – 20 October 2016
The Back Flap
Chandler Scott, a rising TV journalist, tries to connect the dots in a country mired in another financial crisis. Cyber terrorists add to the flames of fear. The public yearns for help from its leaders who respond in ways previously unimagined. Politics and economics collide during the Presidential election of 2020.
About the book
What is the book about?
Chandler Scott is a TV journalist working for the international network, El Mundo. He hosts a show covering financial and political topics. The backdrop of the story is a United States mired in a financial slump and terrorized by cyber hackers. The public demands government do something, which it gets in unexpected ways. Chandler uncovers, with the help of his mentors, a plan to mold the US and world economies giving the government more control over the affairs of its subjects. The novel culminates with the presidential election of 2020 and a historical action taken by the President.
When did you start writing the book?
Fall of 2015
How long did it take you to write it?
4-5 months
Where did you get the idea from?
This is an original idea. I classify the novel as realistic fiction. The backdrop of the story consists of actual events with a slight projection into the near future (4 years). The characters are fictional though many of the organizations/institutions in the novel are real. I published a couple of non-fiction books on the financial markets and economy in 2011 and 2015. This novel brings some of that content to life via characters.
I also anticipated an explosive 2016 election cycle, which is why I hoped readers would have interest in a novel with a political storyline.
Were there any parts of the book where you struggled?
There are parts of the book that I understand will not be of interest to the casual reader. There are certain things that need to be explained in order to maintain the credibility of the work and to add to its gravity. There is also a very important figure in the book serving as the protagonist's mentor and some of his dialogue may not be of interest to many readers, though this was necessary to establish him.
The above, however, will not detract from the story or its explosive sections.
What came easily?
The storyline came very easy. I could foresee the political problems facing the country after the 2008 election. I wrote about the intersection of politics and economics in my non-fiction texts. This novel brings politics, financial crisis, and cyber terror together in an ending that will make the reader wonder if such an events were possible in the country's future.
Are your characters entirely fictitious or have you borrowed from real world people you know?
The characters are entirely fictitious though there are small elements of their personality that were taken from real people.
We all know how important it is for writers to read. Are there any particular authors that have influenced how you write and, if so, how have they influenced you?
The majority of my reading has been non-fiction. There are no authors that influenced my writing. From a subject matter perspective, there may be parallels to Tom Clancy novels in the following respect: he uses realistic military/spy details and creates stories around Jack Ryan whereas I use realistic financial/political/cyber details to create, what will be a trilogy, around Chandler Scott.
I read that when Clancy wrote Hunt for Red October, the text was so replete with detail that his publisher told him he needed to pare the novel substantially. I've tried to be conscious of the detail component to ensure readability.
Do you have a target reader?
My sense is that if you like young adult, erotica, fantasy or love stories, you probably will not like this. If you enjoy reading something with a potent storyline based on realistic things supported by strong characters, you are probably a better fit. The book could also be of interest to someone wanting a peek into the near future, though not from a science fiction sense.
About Writing
Do you have a writing process? If so can you please describe it?
I start with a short (one paragraph) description. Then I create an outline with a little pseudo-manuscript within it. Separately, I create a spreadsheet with scene and chapter numbers that detail location, time/date, characters in scene, and brief description of scene.
Do you outline? If so, do you do so extensively or just chapter headings and a couple of sentences?
I do outline. Once I have a good sense of how it's going to lay out, I use Scrivener, an application tailored for authors that has many more capabilities than I ever use.
Do you edit as you go or wait until you've finished?
I use multiple passes for editing, marking each scene in the process. The Scrivener app allows me to mark an editing "stage" in the process.
Did you hire a professional editor?
I have not to date.
Do you listen to music while you write? If yes, what gets the fingers tapping?
Seldom. When I do, it tends to be something that would tend to be more mellow than strong.
About Publishing
Did you submit your work to Agents?
I didn't for my first two non-fiction books. I did for the fictional work.
What made you decide to go Indie, whether self-publishing or with an indie publisher? Was it a particular event or a gradual process?
For my first two books, I didn't have any expectation of any publisher wanting to print my work. For my third book, I solicited many agents. That process is quite time consuming since it is essential to find someone who markets your genre. After finding such an agent, each has their own desired format for project submittal. By that point, I had already completed the novel so I had to wait for many weeks for a reply, if any.
I then attempted through a smaller platform called Inkshares that proved wholly unsuccessful so I simply went forward, once again, on my own. I had the experience from my other two books so it was no big deal.
Did you get your book cover professionally done or did you do it yourself?
The first two covers I did myself. For the third, there was what I would term minor assistance though I could have easily done it myself. I am going to publish my fourth book later in the year and I designed the cover myself. Many years ago, I purchased a simple cover design software package whose best attribute is formatting for publishing layout. You still have to do all of the creative work.
Do you have a marketing plan for the book or are you just winging it?
Marketing plan has always consisted of FM/AM radio interviews and podcasts. This time, I joined a book club where authors and readers review work and post them to Amazon, Goodreads, and Facebook. I also have someone attempting to secure broader radio interviews.
Any advice that you would like to give to other newbies considering becoming Indie authors?
Honestly, I would discourage it with the following qualifier – do it for fun. If you approach it more as a hobby, you will be more satisfied. Much like music and film artists, there is an element of good fortune in discovering someone. There are probably many good musicians and actors who've never been discovered. The same could be said for authors.
About You
Where did you grow up?
I was born in the Central American country of Panama and raised there and in St. Louis, Missouri.
Where do you live now?
Suburb of St. Louis, MO
What would you like readers to know about you?
There are important changes which will occur in our country in the coming years The public is largely unaware of what is causing these changes and the 2016 presidential election is the seminal example of the nation's divide. I have attempted to explain the country's condition in my non-fiction work and tell a near-term story in my novels.
End of Interview:
For more from Jim visit his website or follow him on Twitter.
Get your copy of 2020 from Amazon US or Amazon UK.