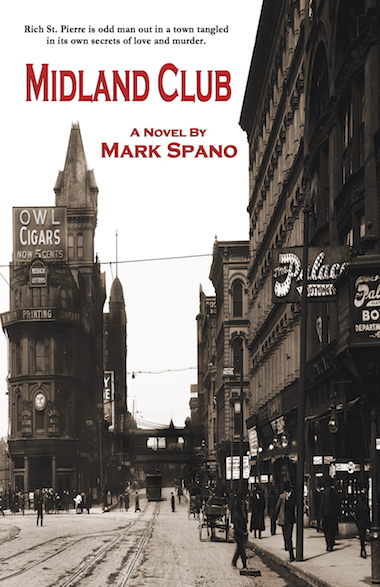 My maternal grandfather was a stone mason. He was given to arranging then rearranging the stones many times before he mortared them. I guess I take after my grandfather. I do a lot of repositioning until it feels right. 
Mark Spano – 24 August 2017
The Back Flap
Midland Club is a knotted, engrossing tale of corruption, lies, and murder in a Midwestern town. One man refuses to believe Puce Bordeaux's death was suicide, despite Sheriff Brundy's assertion. That man is Rich St. Pierre, a member of the wealthy, white, First Family of the town who was locked up, along with Puce, after a raid on a dive where the town's otherwise hidden homosexuals hung out. He's certain that Puce, the quiet, gentile "Negro" who served as a waiter in the exclusive Midland Club for decades, was killed. He's certain that the subsequent death of Puce's priest, Monsignor Corliss, was also murder. Ostracized since the raid by his influential family, Rich also knows that his own life will be in grave danger if he attempts to prove his assumptions by unraveling one of the town's most scandalous secrets – a secret that will embarrass and humiliate one of the most corrupt and powerful men in the town.
About the book
What is the book about?
This is a murder mystery that takes place in Kansas City, Missouri, in 1959.
When did you start writing the book?
I wrote the book in 1980.
How long did it take you to write it?
It took approximately a year to write. I worked through it with my writers' group.
Where did you get the idea?
My childhood.
Were there any parts of the book where you struggled?
I'm a perfectionist when it comes to diction. I did many rewrites.
What came easily?
The characters.
Are your characters entirely fictitious or have you borrowed from real world people you know?
That's hard to say. The characters are my inventions, but they are certainly made in part from people I've known.
We all know how important it is for writers to read. Are there any particular authors that have influenced how you write and, if so, how have they influenced you?
I would say Christopher Isherwood has influenced my diction. His prose is flawless. Other writers I love include Eudora Welty, Italo Calvino, Marcel Proust, Tennessee Williams, Samuel Beckett, Edward Albee, Virginia Woolf, and so many others.
Do you have a target reader?
I guess I have targeted an adult reader. I write about some gay characters, but my characters and stories are about people responding to life. Setting is very important to me. I have a very strong sense of place.
About Writing
Do you have a writing process? If so, please describe it?
This is what I usually do, but these are not hard-and-fast rules for me:
I take notes for a long while. Another writer friend calls this "percolation." I think a lot about characters, conflicts, settings, and so on. Every now and then, I write a conversation between characters. I could hold those notes for months or years.
Then, I set to writing. My maternal grandfather was a stone mason. He was given to arranging then rearranging the stones many times before he mortared them. I guess I take after my grandfather. I do a lot of repositioning until it feels right.
Do you outline? If so, do you do so extensively or just chapter headings and a couple of sentences?
I outline after a fashion. I have an idea about chapters sometimes, for example, that I write down in some order, but that order changes and changes.
Do you edit as you go or wait until you've finished?
In the early stages I edit as I go. The first pages of a book are an acorn, so to speak. Once that acorn is formed, the oak tree grows from it. I spend a great deal of time at the front end of the project. Once it's formed, it begins to write itself. That may sound easier than it actually is in terms of work, but there is no question that once I get the acorn part I can hammer out the rest day by day.
Did you hire a professional editor?
I am no longer in any official writers' workshop, but I am lucky enough to have several writer friends. We read each other's work, and each edits his or her own work based on suggestions.
Do you listen to music while you write? If yes, what gets the fingers tapping?
I do. Music often figures in my stories. I listen to the music that is related to the story, but not always. Sometimes, I just listen to music I like.
About Publishing
Did you submit your work to Agents?
When I first wrote the book it got a lot of attention from agents and publishers, then nothing happened. It went into a drawer.
What made you decide to go Indie, whether self-publishing or with an indie publisher? Was it a particular event or a gradual process?
With Midland Club, it was a very particular event. A friend who had read the book back in 1980 when I first wrote it asked if I had a manuscript. He said he hadn't read the book for a while and wanted to read it again. A month later, he sent it back to me in a format for publication and demanded that I publish it!
Did you get your book cover professionally done or did you do it yourself?
It was a collaboration with colleagues and a designer.
Do you have a marketing plan for the book or are you just winging it?
I work with a publicist. She keeps me on task with the marketing plan.
Any advice that you would like to give to other newbies considering becoming Indie authors?
I write because I love to write. So I have many unpublished manuscripts. But like me, you will write if you must. The publishing part has changed greatly since I first began writing. Nonetheless, I just stay at it – whether or not it will ever contribute to my income.
About You
Where did you grow up?
I grew up in downtown Kansas City, Missouri. I describe the inner city neighborhood of my childhood  in Midland Club.
Where do you live now?
I live on 11 acres in rural Orange County, North Carolina, near Chapel Hill.
What would you like readers to know about you?
I don't especially feel that the particulars of my life are the focus here. If one writes, and I write, one wants others to read what one has written. So I guess I want readers to know that I am grateful that they are interested enough to read my books. I hope they enjoy them and love them as much in the reading as I have in the writing.
What are you working on now?
My publicist and colleagues are insistent that I write another story about Rich St. Pierre, the protagonist of Midland Club. So I've begun another mystery story with Rich set in Kansas City in the summer of 1963.
"The older I get, the more clearly I remember things that never happened." — Mark Twain
End of Interview:
For more from Mark, visit his website or like his Facebook page.
Get your copy of Midland Club from Amazon US or Amazon UK.