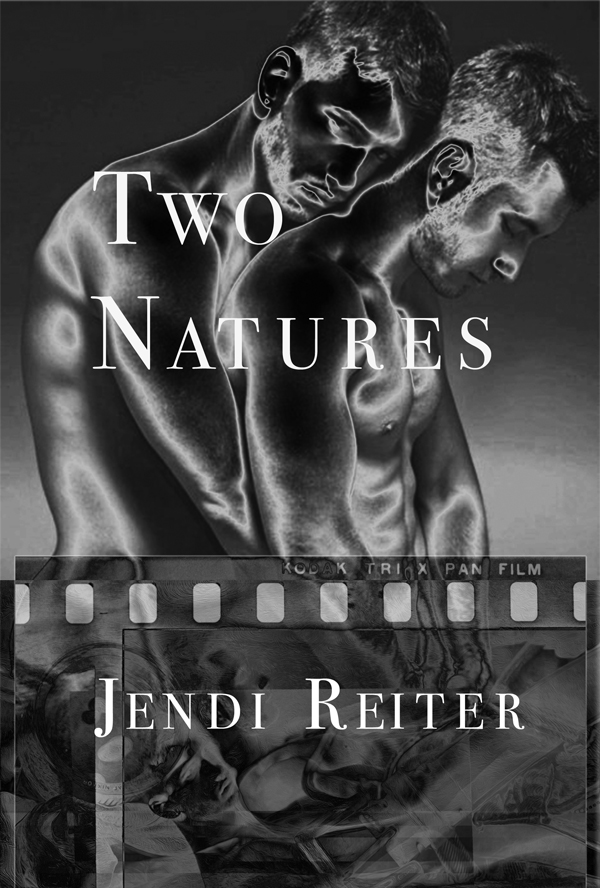 None of the characters are based directly on real-life individuals, and none of them are entirely fictitious, either. I believe that, consciously or not, all novelists draw on characteristics of people they've met, other characters in film or fiction, and aspects of themselves.
Jendi Reiter – 6 November 2017
The Back Flap
This big, genre-bending, spiritual coming-of-age novel focuses on Julian Selkirk, a young gay fashion photographer in New York City in the early 1990s, at the height of the AIDS epidemic.z Vivid social realism, enriched by unforgettable characters, eroticism, and wit, make this a satisfying read of the highest sort.
About the book
What is the book about?
Two Natures is the coming-of-age story of Julian Selkirk, a fashion photographer in New York City in the early 1990s. His faith in Jesus helped him survive his childhood in the Atlanta suburbs with an abusive alcoholic father, but the church's condemnation of his sexual orientation has left him alienated and ashamed. Yearning for new ideals to anchor him after his loss of faith, Julian seeks his identity through love affairs with three very different men: tough but childish Phil Shanahan, a personal trainer who takes a dangerous shortcut to success; enigmatic, cosmopolitan Richard Molineux, the fashion magazine editor who gives him his first big break; and Peter Edelman, an earnest left-wing activist with a secret life. Amid the devastation of the AIDS epidemic and the racial tensions of New York politics, Julian learns to see beyond surface attractions and short-term desires, and to use his art to serve his community.
When did you start writing the book?
I started working with these characters in 2006, in a draft of a different book that I laid aside. I realized that Julian should be the main character and narrator in 2008, so I date the "beginning" of Two Natures from November 2008.
How long did it take you to write it?
Seven years, 2008-2015, but I'm always working on several projects at once. During that period, I also had some short stories, two poetry chapbooks, and a full-length poetry collection published: Bullies in Love (Little Red Tree, 2015).  The side projects help me work out ideas and character sketches that sometimes find their way back into the novel I'm writing. For instance, both Bullies and Two Natures are concerned with LGBTQ life stories and the sometimes fraught relationship between sexuality and religion.
Where did you get the idea from?
The book's theme arose from the ongoing conflict in contemporary Christianity over equality for LGBT people. I was baptized in the Episcopal Church, which has been at the forefront of this debate since we ordained an openly gay bishop, Gene Robinson, in 2004. The issue tore apart some of my Christian friendships and prayer circles, including the writing group where I was working on the earliest drafts of this novel.
I was raised by two mothers in New York City in the 1970s-80s. Because of work and personal problems, they had to remain closeted, so we were cut off from gay culture during a pivotal era of community-building, activism, and artistic expression. Writing about gay New York is a way for me to connect with that history now and imaginatively live the alternate life I wished for.
Were there any parts of the book where you struggled?
I went through many permutations of Julian's relationship to Christianity because my own faith was evolving rapidly during the time I was writing it. Organized religion didn't end up being as important to him as I thought it would. When I couldn't write plausibly about orthodoxy from his point of view, I was forced to admit that my ultimate authority was the Spirit as revealed through my creative process and personal experience—not the teachings of any church or scripture. This was scary but ultimately liberating. The book ended up being about how Julian learns to trust himself and his own experience of the sacred.
What came easily?
Julian's voice was strong in my head from the beginning. He's witty, self-deprecating, sentimental one moment and sarcastic the next, loves beauty, doesn't overthink things, but struggles with the fear that he's all alone in the universe—that God doesn't love him because of his sexuality.
Are your characters entirely fictitious or have you borrowed from real world people you know?
None of the characters are based directly on real-life individuals, and none of them are entirely fictitious, either. I believe that, consciously or not, all novelists draw on characteristics of people they've met, other characters in film or fiction, and aspects of themselves. This last source was most interesting and surprising for me. I didn't realize I had a gay male alter ego until Julian showed up!
Julian started as my fantasy self, a liberating thought-experiment. What would I feel, what choices would I make, if certain external constraints were reversed? What if I'd had the freedom and safety of being an attractive, socially gifted, not risk-averse young man, in the same New York environment where I came of age? I discovered that beneath our different exteriors, Julian and I had similar longings for intimacy and security, which created inner conflict with his macho Southern upbringing that scorned male vulnerability. The writing went better when we overcame his shame about his feminine side. Meanwhile, I learned to incorporate some of his good masculine energy, his independence and libido, into my persona in this world.
We all know how important it is for writers to read. Are there any particular authors that have influenced how you write and, if so, how have they influenced you?
I love big novels of ideas that also have exciting plots, like Alexander Chee's The Queen of the Night and Donna Tartt's The Secret History. I also love male authors who can show men's sensitive side, like Pat Conroy.
Do you have a target reader?
Anyone who enjoys literary fiction, gay fiction, M/M romance, and novels about contemporary politics. Christian parents who would like to understand their LGBTQ children and family members. People interested in gay history and the AIDS epidemic.
About Writing
Do you have a writing process? If so can you please describe it?
My characters are constantly present with me, and sometimes I actually sit down and write about them.
Theoretically, I write for about 2 hours on MWF mornings. This time is always under siege from the demands of book marketing, my "real job" as editor and contest judge for our WinningWriters.com writing resource website, my child's school holidays, and that scourge known as email.
I often have some kind of ritual to mark the transition from regular life to the world of the novel. When I was writing Two Natures, I might start by listening to a song, saying a prayer, or doing a brief free-write or character interview to check in with my collaborators—I mean, characters—about our next steps. Since then, I've begun using Tarot readings to tune into my intuition and spiritual guidance, so I usually start a writing session by pulling a few cards as prompts. Tarot has turned out to be fantastic for my novel plotting.
Do you outline? If so, do you do so extensively or just chapter headings and a couple of sentences?
I don't outline. I have a general idea of the main plot points, but my process is character-driven. I put them in situations with conflict, and allow them to reveal more and more about their personalities and motives. Their reactions dictate the pace at which events unfold—and often suggest new plot directions instead of what I had planned.
Do you edit as you go or wait until you've finished?
I write my first drafts by hand, and edit lightly when I type them into the computer, which I try to do every 20 pages or so. I don't do any major editing till I have a draft of the whole book. No point laboring over a scene if an overall read for narrative structure reveals that the scene should be cut altogether!
Did you hire a professional editor?
Award-winning poet Ellen LaFleche, a friend who is a professional editor, read multiple drafts during the writing process, in exchange for similar feedback on her poetry manuscripts. I paid her for a line-edit of the finished book. [Find her at https://winningwriters.com/about-us/staff-biographies] I also paid a gay male artist friend in NYC, who is of the same generation as Julian, to give the manuscript a close read for sensitivity and accuracy. Saddle Road Press publisher Don Mitchell worked closely with me to make the final book typo-free (we hope!).
Do you listen to music while you write? If yes, what gets the fingers tapping?
I need complete silence when I actually sit down to write (earplugs and all) to hear the voices in my head! However, music plays a huge role in my fiction-writing process. When I'm driving, doing chores, or working out, I play certain songs or styles of music to get into the mindset of different characters, and daydream about possible scenes that would portray the emotions in those songs. Julian is partial to 1980s New Wave, electronica, bluegrass gospel, and French cabaret music. (Check out his playlist on Pinterest.) Peter, one of his boyfriends who is the protagonist of my new novel-in-progress, is revealing a fondness for Nine Inch Nails and 1970s folk songs. Should be an interesting battle over the remote control when those two shack up!
About Publishing
Did you submit your work to Agents?
Not this time around, but I will consider it for the next book. I was eager to get Two Natures out in the world after its long gestation process.
What made you decide to go Indie, whether self-publishing or with an indie publisher? Was it a particular event or a gradual process?
I first submitted the book to contests because I know that market best, and was then planning to seek an agent, if the contest route didn't work out. Meanwhile, I was emailing with Ruth Thompson, the editor of Saddle Road Press, about a poetry book of hers that I had greatly enjoyed, and she happened to mention that the press was seeking literary fiction manuscripts. I had a high opinion of their literary taste and book design skills. I sent them Two Natures and received an offer a few months later.
Did you get your book cover professionally done or did you do it yourself?
Don at Saddle Road Press did a beautiful job creating a photo collage with his original images and stock photos of the cover models. He is an accomplished photographer as well as writer and editor. Check out his work at http://hilodailyimage.com/about.html.
Do you have a marketing plan for the book or are you just winging it?
I've been working with the excellent and dedicated Carolyn Howard-Johnson to implement some of the ideas in her guide The Frugal Book Promoter. Right now I'm focusing on social media, online reviews and marketing sites like this one, and word of mouth in my community. I submitted to every eligible award I could find for indie published books, and picked up a couple of honors, but the fees were very steep and I might be more selective next time around.
Any advice that you would like to give to other newbies considering becoming Indie authors?
Make sure your finished book looks as professional as a book from a major publisher. Have a writer friend or a freelance editor give you a critique for pacing and loose plot threads. When you've completed the structural edits, hire an experienced proofreader/copyeditor and a cover designer. Pick a cover that will be easy to understand in the thumbnail size on a bookseller's website or e-newsletter. Let successful contemporary books in your genre be your guide to typefaces, color schemes, and mood, without copying their look so much that yours doesn't stand out.
If you self-publish, you have more choice about pricing. (Price inflexibility was the one big downside of small press publishing for me.) Research comparable titles and look at sales survey data from sites like BookBaby and BookBub.
About You
Where did you grow up?
I grew up on the Lower East Side of Manhattan.
Where do you live now?
Since 2003 our family has lived in Northampton, a college town in Western Massachusetts with a vibrant literary and arts scene and a large LGBTQ community.
What would you like readers to know about you?
My poetry and fiction are guided by the belief that people take precedence over ideologies. In exploring themes of queer family life, spiritual integration, and healing from adverse childhood experiences, my goal is to create understanding that leads to social change.
End of Interview:
For more from Jendi visit her website or like the book's Facebook page.