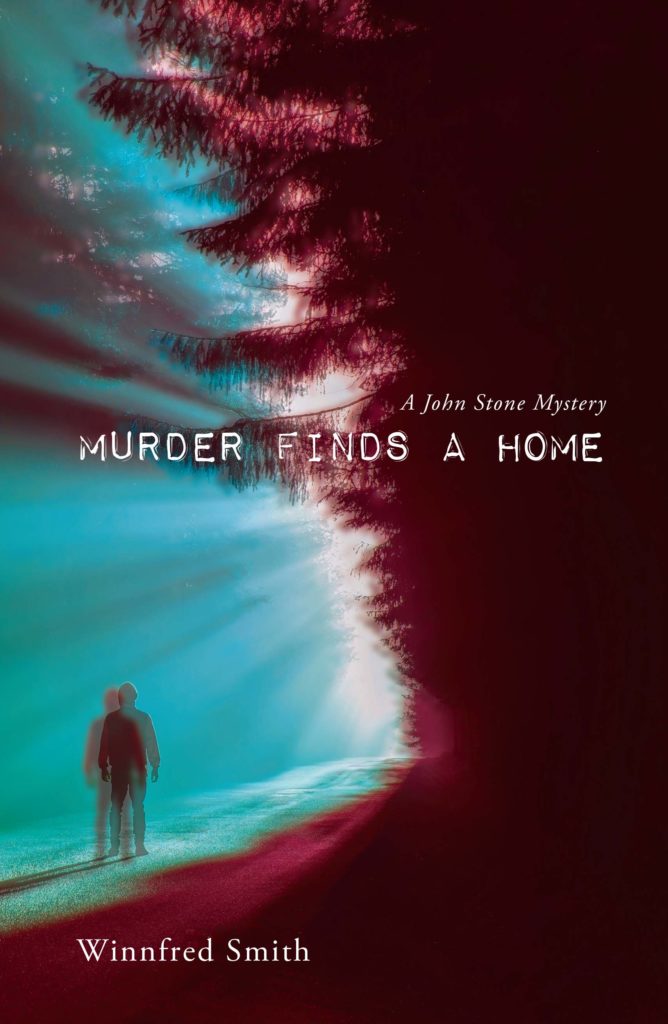 I used to travel a lot. All over USA. I saw homeless people sleeping on sidewalks in several cities including LA, SF, NY, Omaha, Denver. I saw a shelter in Denver and while I didn't go in, the whole idea stuck.  
Winnfred Smith – 12 October 2017
The Back Flap
ohn Stone is a computer guy with a knack for solving mysteries. And he's been asked by his close friend, Elliot, to come to California and find why an employee was murdered and who done it.
Stone finds himself getting bits and pieces that don't fit anywhere. He gets clues that don't seem like clues till another person provides the glue. In the midst of solving the murder, he finds himself colliding with women who are delicious, devious, or deadly. Suspicious police steer his progress down one-way streets with no exits. When his discoveries move to higher levels, so does the danger.
Mystery and romance follow him from clue to clue till the end forces life-or-death decisions.
About the book
What is the book about?
A detective, John Stone, owns an IT firm. His close friend in the LA area asks him to come find the killer of his Homeless Shelter manager.  As he wrestles with misleading clues to solve this mystery, Stone meets many women along the way. While some fall in love with him, others want him dead.
When did you start writing the book?
I started in 2015, but my day job got in the way. When I had the chance, I picked it back up in early 2016. The manuscript was finally ready in January 2017.
How long did it take you to write it?
It took me about nine months in total.
Where did you get the idea from?
I used to travel a lot. All over USA. I saw homeless people sleeping on sidewalks in several cities including LA, SF, NY, Omaha, Denver. I saw a shelter in Denver and while I didn't go in, the whole idea stuck.
Were there any parts of the book where you struggled?
My biggest struggle was reaching a good word count. I had to look for ways to make other connections in the story line.
What came easily?
The first few pages and the last chapter, definitely. When writing a novel, the beginning and ending are clear to me. I just have to know how to fill in the rest.
Are your characters entirely fictitious or have you borrowed from real world people you know?
They are all fictional.
We all know how important it is for writers to read. Are there any particular authors that have influenced how you write and, if so, how have they influenced you?
My second bedroom is my library. I have a couple hundred paperbacks and more in hardcover with many signed by the authors themselves.  I enjoy authors like Lindsey Davis, Lawrence Block, Elizabeth Peters, Buckley, Carl Hiaasen, John D. McDonald, Robert Parker, to name a few.
I was the newsletter editor for a writers group in Mississippi. That connected me personally to many local authors. I even met Eudora Welty once. Talking to influential authors got me very interested in doing my own writing.
Do you have a target reader?
I would say my readers are mostly women.
About Writing
Do you have a writing process? If so can you please describe it?
I think of the general story, various happenings that might occur, and the ending. I make general notes and then start writing.
Do you outline? If so, do you do so extensively or just chapter headings and a couple of sentences?
I don't do an outline. I've tried it, but it never worked out for me. I just think of the story in general and take off.
Do you edit as you go or wait until you've finished?
I never wait until finished. I write the first fifteen or twenty pages and edit. After fifty or sixty pages have been edited, I leave those as is. Then I start the next fifteen or twenty, etc. Once I reach a hundred or so pages, I sometimes re-read from the start. And I definitely re-read from the start when it's finished.
There's a point where you just have to be done. The trick is finding it.
Did you hire a professional editor?
No (edited through small press)
Do you listen to music while you write? If yes, what gets the fingers tapping?
No. I just think as my character would and type.
About Publishing
Did you submit your work to Agents?
No. I tried one publisher but they kept adding charge after charge and I dumped them and got almost all my money back. Then I found my current publisher and all was good.
What made you decide to go Indie, whether self-publishing or with an indie publisher? Was it a particular event or a gradual process?
I had worked with a company and they were not honest with me. Kept finding more things to cost me more money.  I went to a Writers event at a local college. There I saw several authors talking to a publisher. They were enjoying themselves. I asked and they said their publisher was great. So, I signed up.
Did you get your book cover professionally done or did you do it yourself?
I gave my publisher ideas. They sent designs and I selected one.
Do you have a marketing plan for the book or are you just winging it?
My marketing coordinator is working on that. I'm also looking for ways to do my part. I just got back from the AJC Book Festival in Decatur, GA. I sold a few books and passed out fifty or so business cards and thirty or so brochures that show all my books.
Any advice that you would like to give to other newbies considering becoming Indie authors?
Never stop trying, writing, and looking.
About You
Where did you grow up?
I grew up in small town Griffin, GA. The population was under twenty thousand then. We lived about twelve miles from Griffin in the country.
Where do you live now?
I live in Cartersville, Georgia.
What would you like readers to know about you?
I was the newsletter editor for the Mississippi Writers Association for about four years until I moved. I met many authors, local and from other states.
Apparently, I'm a romantic. I had a college professor who critiqued my first short story manuscript and about mid-way through, she wrote at top of a page… "Winnfred, you're a romantic."
My genre is generally Romantic Mystery, as others have said. I realized I like to watch old and new romance movies, long before writing.
What are you working on now?
I'm now working on the second novel in the John Stone series. I also have the 3rd and a 4th John Stone novels started. Some of my collections of short stories are published already.
End of Interview:
For more from Winnfred, visit his website or like his Facebook page.
Get your copy of Murder Finds a Home From Amazon US or Amazon UK.