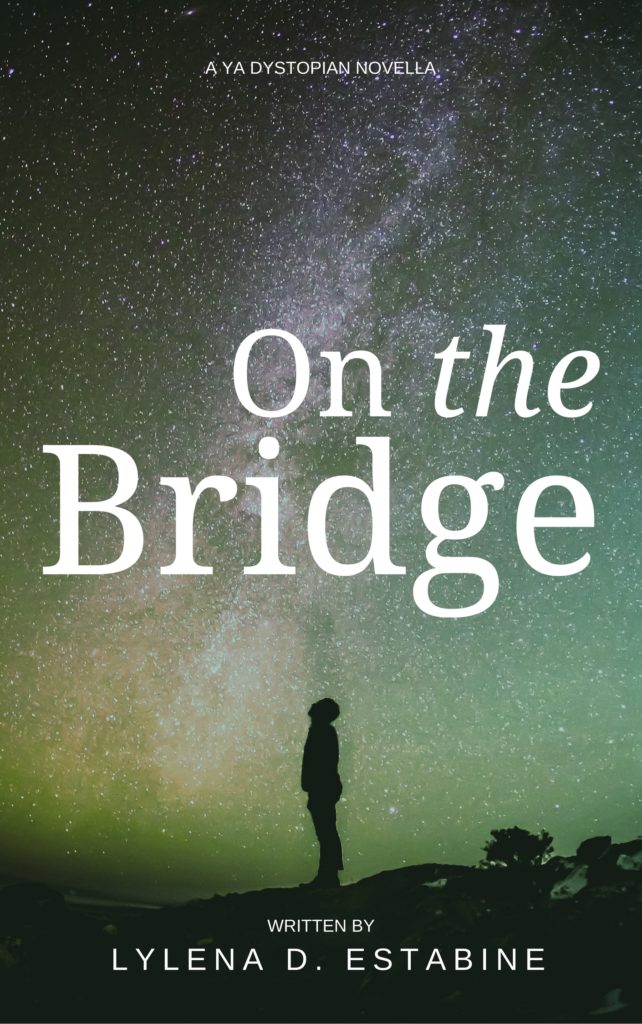 I finally realized that, what others thought about it wasn't as important as what I had to say. I found myself, just like my main character Colt, faced with the decision about whether I was going to accept the narcissism the world feeds us or if I believed in something more optimistic.
LyLena D. Estabine – 18 September 2017
The Back Flap
Colt Green is a sixteen year old boy living in an isolated society called the Haven in the year 2323. In this society, Colt's father is the Chief of Police, the highest-ranking government official. Despite his higher upbringing, Colt's closest friends are Nedya, a rebel with a lower economic status, and Lek, who's of an alien race despised in the Haven. Up until now, Colt could keep his family life and his life with his friends separate, but when one bad bridge fight rips things apart, Colt is forced to choose between the beliefs the Haven has bred in him and what he believes in his heart.
About the book
What is the book about?
On the Bridge is a coming-of-age novel focusing on a boy torn between two worlds – the world of his parents and society, and the world he feels pulled to because of who his friends are. It's about how our parents and backgrounds influence who we are and how/if they define us. It's about what it means to be strong, even if you never throw a punch. It's about sacrifice and speaking for those who cannot speak for themselves. It's about the feeling we all must face at some point in our lives, the feeling of being "on the bridge" or torn between two sides of an issue (in this case, immigration prejudices). Really On the Bridge looks at growing up in the 21st century from all sides (even though the book takes place so far in the future) and I think there's something in it for everyone.
When did you start writing the book?
I started writing the book around late August, when more and more about immigration started showing up in the news.
How long did it take you to write it?
It took me about eight months to write and an additional three months to edit. I finished the book in mid-June.
Where did you get the idea from?
I was riding the bus home from my high school, where a large part of the student body is very involved in technology and robot battles. I was thinking about the implications of a society where technological fights were deemed dangerous and made illegal. This initial spark mixed with the news at the time regarding the approaching election and immigration issues we are currently dealing with led me to form the full idea of On the Bridge.
Were there any parts of the book where you struggled?
The ending was the hardest part to write for me. While I was writing the first draft, the main theme of the story was whether racism was something inbred in people by experience and upbringing, or if it was a choice, and the ending really had to reflect that. I started asking some of my friends what they thought about it and got a variety of answers. I finally realized that, what others thought about it wasn't as important as what I had to say. I found myself, just like my main character Colt, faced with the decision about whether I was going to accept the narcissism the world feeds us or if I believed in something more optimistic.
What came easily?
The easiest part was creating characters with relatable conflicts and outlooks on life. From Nedya, the tomboy who experiences sexism almost daily, to Lek, the alien experiencing the prejudices of his community, to Colt, who watches it go on and has little power to change anything, my diverse background has given me everything I need to accurately write these characters and their complex viewpoints.
Are your characters entirely fictitious or have you borrowed from real world people you know?
All the characters in my story are completely fictitious, but their problems are 100% real.
We all know how important it is for writers to read. Are there any particular authors that have influenced how you write and, if so, how have they influenced you?
Starting out as a young author, the main people who influenced me were authors like Gail Carson Levine and Lemony Snicket (Daniel Handler), but as I've grown older my writing displays more influence from writers like John Green, C.S. Lewis, Ray Bradbury, and Suzanne Collins.
Do you have a target reader?
I think my book is great for all readers, but my main audience is middle and high schoolers. I want them to see that just because we are young, does not mean that today's issues do not apply to or affect us. We all have stories. Speak up and say something!
About Writing
Do you have a writing process? If so can you please describe it?
My writing process is a hybrid of organization and chaos. In part I plan everything and have several folders filled with character sketches and plotlines all organized. But at the same time I have a wall full of sticky notes and papers thrown around my room with midnight sparks and quotes that I want to incorporate into the story, even though I have no idea where they're going. When I'm writing I usually follow the outline and write from one point to the next, but I'm open to change. If I feel like the character should do something in the next scene that I didn't plan, then the character does what the character does. In my mind, I'm more of a vessel for the will of my characters, not a puppet master.
Do you outline? If so, do you do so extensively or just chapter headings and a couple of sentences?
I outline to the point where it could be considered a first draft! One of my favorite things to do is search the internet and read about better ways to plan and outline. I think it's one of the main reasons my plots can have the depth and hidden double meanings they have.
Do you edit as you go or wait until you've finished?
If I really don't like a scene then I'll start over, but for the most part I wait until I'm finished writing to do any editing. I'm highly self-critical and if I edited while I wrote then I would never finish!
Did you hire a professional editor?
I didn't hire a professional editor, but if I'd had the budget to do so then I would've. Instead I had to convince my parents and a couple of my teachers to read through, which is difficult because they're doing it on their own time, trying to work around their busy schedules. I would recommend to other authors to hire a professional editor, even if it does take a chunk out of your wallet. It's worth it.
Do you listen to music while you write? If yes, what gets the fingers tapping?
When I listen to music it's either Amazon Echo "Alexa" 's rain sounds, soundtrack music, or an ambient mixer. My soundtrack taste falls heavily on to compositions by Hanz Zimmer (he's a real musical genius). As far as ambient sounds/music goes I always go to www.ambient-mixer.com. Sound wise, it's got everything a writer could ever need.
About Publishing
Did you submit your work to Agents?
I did submit my work to agents, specifically to the newer ones.
What made you decide to go Indie, whether self-publishing or with an indie publisher? Was it a particular event or a gradual process?
My decision to go through self-publishing was a gradual process. I learned through research that novellas are harder to market and sell to agents, but that wasn't enough to turn me away from my dreams of getting On the Bridge to a traditional publisher. What really made me lock in on self-publishing was the content matter of my book as it relates to what's happening in politics and world news. I knew that even if I managed to find an agent, the publishing process could take months or longer. I'm familiar with self-publishing because of other works I published when I was younger, and I finally came to terms with the fact that my traditional publishing dreams would have to wait for another book.
Did you get your book cover professionally done or did you do it yourself?
I did the cover myself using www.canva.com, a graphic design website. It took me a while, but it was worth the work I put in. I love the way it turned out, and that fact that I made it makes it even more special to me. The cover's one of my favorite parts of the book.
Do you have a marketing plan for the book or are you just winging it?
I've got a little planning and a little winging – as it is with the rest of my writing life. I'm reading a lot of books on marketing and self-publishing as I go, so it's largely a hit or miss game. My main marketing focus is to the local schools and libraries. I've expanded online a little bit, but I'm still working on growing those platforms.
Any advice that you would like to give to other newbies considering becoming Indie authors?
For those who would like to be Indie authors, find your motivation before you press "Publish". If selling books is enough motivation for you then that's fantastic, because you're going to be doing a lot of that if you want to make any money. But for most of us, me included, just selling books is not enough. You need some other passion besides that, so that when you don't sell and you lay awake in awe at how horribly things are going, you don't give up. For me, it's the desire to help inspire other kids so that they don't have to feel so alone in their writing endeavors or experiences, but that is only one of many. Whatever the passion behind your work is, find it, feed off it, and never let it go.
About You
Where did you grow up?
I was born and have thus far grown up in Olathe, Kansas.
Where do you live now?
I still live in Olathe under the care of my wonderful parents. Most of the time it's nice and quiet, typical of a sweet state like Kansas. Perfect for writing.
What would you like readers to know about you?
I'm 15 years old. When I'm not writing – a very rare occurrence, I can assure you – I'm almost always in a theater with my thespian family. My second love to writing is performing (aka making a fool of myself), whether that be through music or drama.
What are you working on now?
I am currently working on the first book in a dystopian, alternate-history, steampunk trilogy. My goal is to traditionally publish the series, but the best laid plans of mice and men often go awry, so I'm keeping an open mind. Who knows what will happen!
End of Interview:
For more from LyLena, check out her Youtube channel, her writing Vlog, or her Instagram page. And don't forget to like her Facebook page.
Get your copy of On the Bridge from Amazon US or Amazon UK.