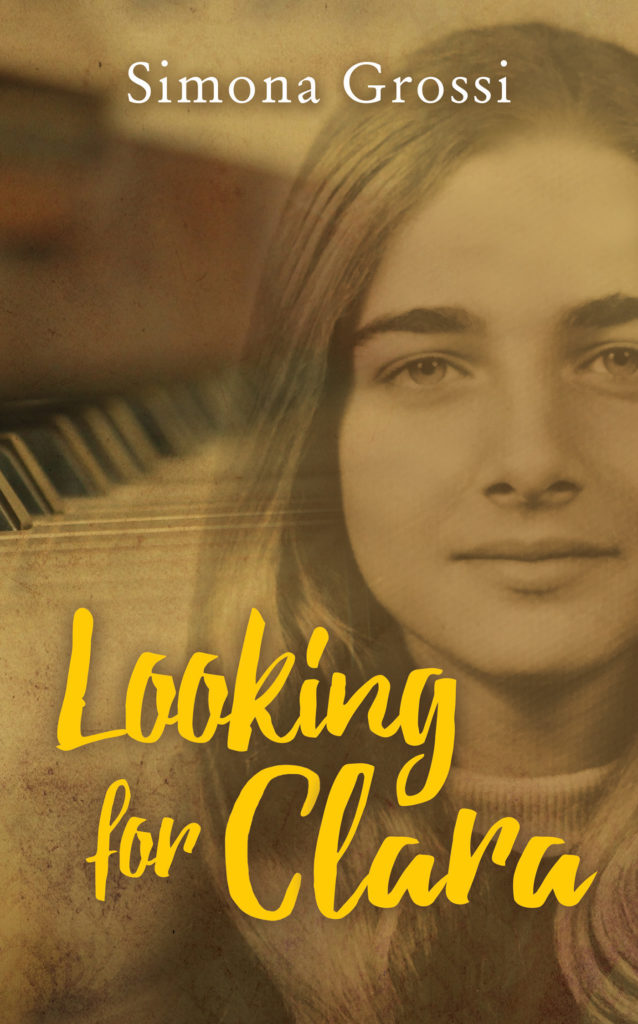 It's like being in front of several doors, only some of which will open to the story. You need to patiently open all of them, look around, explore, and leave if what you see doesn't belong to the story. And keep doing this until you find the door that will take you where the story wants to go. You don't control anything. You don't decide. You just observe, wander, look around, taste, dream, feel.
Simona Grossi – 11 March 2017
The Back Flap
Clara, a former pianist, is now a successful lawyer in L.A. When her law firm sends her to Siena her life takes an unexpected turns. There she meets Mario, an eighty-year-old photographer who takes photographs of strangers and friends and then composes stories about the images he has captured. Mario and Clara's friendship turns into a unique bond, and together they embark on a journey through some of the most beautiful places in Italy, trying to solve a puzzle in an old photograph that seems to connect their lives in mysterious ways.
"Grossi writes in an original voice, one that evokes the freedom and passion of jazz…At the heart of the story is a powerful friendship…that opens the door to everything that follows. In the end, Looking for Clara is a story about true friendship and the possibilities of a life we choose to create." – excerpted from an online reader review.
About the book
What is the book about?
The book is about the courage to be oneself and to pursue one's dreams, the courage to listen to one's heart and follow that voice, the courage to fall in love and to love. And it's about friendships that can deeply affect our lives and the course of events.
When did you start writing the book?
I started writing the book in June 2014. It was after going through some traumatic events. I was looking for something that would make me happy again, something that would make me believe that life can be magic, if we allow it to be so. Sometimes people and events can make us lose that trust. I wanted to recover that trust, believe again.
How long did it take you to write it?
I wrote the story in one month. But I rewrote it two or three times over the course of the following two years.
Where did you get the idea from?
The idea came from a dream I had. I dreamt the last line of what I thought could be my first novel. And, in fact, it was not even a line. It was a fragment of it. It read something like "and it slowly faded away." I saw that phrase, and saw myself looking outside the window. I felt at peace, and wanted to make that peace real, own it. I had been shaken strongly by recent events and I needed that peace, I needed love. I told my husband and my best friend about this, and they both encouraged me to write a story that would include that phrase. I had no idea what the story would be though. I looked toward my window. My cats were staring at something, somehow searching for something. And so the title was conceived. Looking for Clara, looking for clarity, which is what I have always been looking for. And the line is still in the book, it closes the story.
Were there any parts of the book where you struggled?
I must say I never struggled and always did. It wasn't any specific part of the story that made me struggle though. I struggled when I wasn't exactly where I should have been when I was writing. Inspiration can come and go. You see the story and you don't see it. You have to keep looking. It's like being in front of several doors, only some of which will open to the story. You need to patiently open all of them, look around, explore, and leave if what you see doesn't belong to the story. And keep doing this until you find the door that will take you where the story wants to go. You don't control anything. You don't decide. You just observe, wander, look around, taste, dream, feel.
What came easily?
Writing came easily, when I had opened the right door. I could write for hours nonstop, without even reviewing what I had written. And obviously it was easy to talk about things I knew, things I had witnessed, directly or indirectly.
Are your characters entirely fictitious or have you borrowed from real world people you know?
Some of my characters are entirely fictitious. But most of them are inspired by the people I have met in my life. None of them is exactly like those people though. Everyone has a new identity, new traits, new stories.
We all know how important it is for writers to read. Are there any particular authors that have influenced how you write and, if so, how have they influenced you?
I used to read classics when I was young. Alessandro Manzoni, I Promessi Sposi, Dante, La Divina Commedia, Baudelaire, Tolstoy, Dostoevsky, Nabokov…. But I love modern authors as well, such as Herman Hesse, Paolo Cohelo. And more recently, Paolo Giordano, The Solitude of Prime Numbers, and Paula Hawkins, The Girl on The Train. I love what I call "naked writing," writing that is powerful, not because of the sophisticated words chosen to convey ideas and feelings, but because of the sophisticated feelings and ideas conveyed with simple and direct writing. I believe in strong sentences that pull you from your navel. I believe in words that paint. Those authors did it for me. They enticed me into their story, into their journey, to the point that their journey became mine.
Do you have a target reader?
No. My target audience is an audience who is willing to be surprised, to fall in love, one that loves music, jazz, life, art…So no specific target I'd say.
About Writing
Do you have a writing process? If so can you please describe it?
I wouldn't describe it as a "writing process." I can say, though, that I like to write at coffee shops that have a unique warmth, cafés that evoke stories. And I do love writing with some music in the background.
Do you outline? If so, do you do so extensively or just chapter headings and a couple of sentences?
Absolutely no outline. Just discovery, day by day. My stories always surprise me, and I love to be surprised. Sometimes, though, I like to put post-its on the wall with names and ideas in random orders, things that come to mind as I write, just for fear of losing them. Sometimes I end up using those ideas, but most of the time, I use them in ways that I could have not predicted at the time when they appeared on my wall.
Do you edit as you go or wait until you've finished?
I don't have a precise plan as to when to edit. It really depends. If I feel that the story is flowing and that I "own" it up to that point, then I don't edit until I'm done. If I feel I am not yet sure of what I'm writing, the story, its characters, then I go back and edit at the end of each chapter.
Did you hire a professional editor?
I didn't. But my best friend is my editor.
Do you listen to music while you write? If yes, what gets the fingers tapping?
Always music. I choose the soundtrack of the story early on. And my choice depends on the story. It could be Erik Satie, Debussy, Ravel, or jazz from the 20s and 30s, or Amy Winehouse…
About Publishing
Did you submit your work to Agents?
I did. Tons of emails. And I was represented twice. On both occasions I was frustrated and terminated the contract.
What made you decide to go Indie, whether self-publishing or with an indie publisher? Was it a particular event or a gradual process?
I think I had to go through the agency process first. I did think of skipping it. Too painful. But I also thought that if I self-published I might not give my stories a serious chance of success. And then, this past Christmas, I watched La La Land. And that movie made me deeply want to free my dream and let it fly. I have written four novels after Looking for Clara. It was time to share them.
Did you get your book cover professionally done or did you do it yourself?
The idea of the cover comes from an old photograph of my mother. My best friend thought it would be perfect for the book. So I used 99deisgners.com, launched a contest, received over 100 submissions, and finally chose the design that I thought was closer to the book. The photo is the protagonist of the cover.
Do you have a marketing plan for the book or are you just winging it?
I don't have a marketing plan yet, but I have contacted a publicist and am waiting to discuss this with him.
Any advice that you would like to give to other newbies considering becoming Indie authors?
I don't have experience as an Indie author yet, but I can say that releasing the book after three years was liberating. It's a lot of work, but it's also fun.
About You
Where did you grow up?
I grew up in the South of Italy, surrounded by books, loud people, musical ones, a little bit of madness, deep artistic sense, and lots of drama.
Where do you live now?
I live in Santa Monica, together with my husband, Aaron, and my two cats, George (named after George Costanza, in Senfeld) and Holly (named after Holly Golightly in Breakfast at Tiffany's).
What would you like readers to know about you?
I love music and art in all its forms. I play piano and teach law. I love teaching, I love being with my students. I love traveling, and I am a dreamer who believes in magic.
What are you working on now?
I'm working on perfecting my second novel, and then will move on the third and fourth, both in draft. My second novel is called Lies We Tell, and I'd describe as a literary fiction with some brushes of darker colors and a little bit of madness.
End of Interview:
For more from Simona like her Facebook page.
Get your copy of Looking for Clara from Amazon US or Amazon UK.