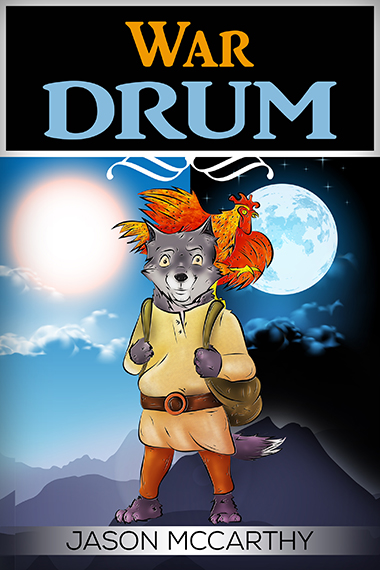 I grew tired of waiting for others to fulfill my dreams for me. Sometimes you've just got to take life into your own hands.
Jason McCarthy – 9 March 2017
The Back Flap
What happens when the wolf no longer howls at the moon? When Otsoa, a young Wolf-thread, finds he can no longer howl, a mysterious grey fog appears and begins destroying the world. Otsoa is then forced into an adventure, along with a rooster that he packed for his lunch, to find the legendary source of natural music – the War Drum. Will the world be saved if the Wolf-thread can find his howl? Or is there a deeper mystery behind the destructive fog?
About the book
When did you start writing the book?
Technically, I started writing the book five years ago, but only properly started crafting it in its final form in Summer 2015.
How long did it take you to write it?
Five years. Four years of planning. One year of intensive writing.
Where did you get the idea from?
I got the idea after watching a nature documentary called Song of the Earth which looked at the relationship between animals and music – known as the study of zoomusicology.
I was also heavily inspired by the Studio Ghibli film Princess Mononoke.
Were there any parts of the book where you struggled?
I struggled with creating an even balance between the main story arc and the crucial inclusion of flashback and mythology for the universe. I began wanting to tell a simple story, but the universe just kept on growing bigger and bigger.
What came easily?
What came easily was the voices of the characters. I found they all naturally started conversing with each other like old friends as soon as they were created.
Are your characters entirely fictitious or have you borrowed from real world people you know?
Not intentionally, but I am sure there are parts of me and my loved-ones in each of my characters. I guess it is easier to hide elements of myself beneath the guise of an animal.
We all know how important it is for writers to read. Are there any particular authors that have influenced how you write and, if so, how have they influenced you?
Eiichiro Oda, the author of the manga One Piece, is my biggest inspiration. The level of imagination that he shows within those pages always blew my mind. I also loved his artwork, which made me adamant that I wanted my book's cover to have really eye-catching character design.
Do you have a target reader?
I have targeted young adult and anyone who grew up obsessed with Pokemon, Dragon Ball Z and all the incredibly colourful adventures that surfed me through my youth and took me to amazing worlds. I want to take people, young and old, on these adventures, the same way my heroes do for me.
About Writing
Do you have a writing process? If so can you please describe it?
I play my guitar for a little bit and then I sit down, put on some classical music, set a timer for an hour and write in my notebook. I try not to care about what I'm writing and just go for it.
Do you outline? If so, do you do so extensively or just chapter headings and a couple of sentences?
I do a lot of sub-headings, to remind myself what I have vaguely planned to happen. But most of the time I just see how it all comes out.
Do you edit as you go or wait until you've finished?
I wait until I finish, which is similar to my organization with my dish washing. But I think it's important to let the story sit for a long time and then go back to it – but that same excuse doesn't fly when it comes to dirty dishes unfortunately.
Did you hire a professional editor?
Luckily, one of my good friends had a lot of professional editing experience so I now owe him a favour.
Do you listen to music while you write? If yes, what gets the fingers tapping?
If it's not classical, I often put on the soundtracks to all my old favourite video games when I was growing up, such as Pokemon and Legend of Zelda. That really ignites a deep sense of adventure within me.
About Publishing
Did you submit your work to Agents?
I submitted to some but I found that led to me simply waiting around for weeks. I grew tired of waiting for others to fulfill my dreams for me. Sometimes you've just got to take life into your own hands.
What made you decide to go Indie, whether self-publishing or with an indie publisher? Was it a particular event or a gradual process?
I started drawing my characters and realised that I had to make what I saw in my head a reality. I didn't want to leave it in someone else's hands. Luckily, I found an illustrator who shared my vision.
I then joined a writing club and got talking to a self-published author and it opened up a new world for me.
Did you get your book cover professionally done or did you do it yourself?
I came to terms with my lack of drawing talent and asked my illustrator friend to convert a picture I had done into something that didn't burn the eyes. When he sent over his conversion, I knew straight away that I had found my book cover.
Do you have a marketing plan for the book or are you just winging it?
I do have a plan, but I learn a new trick every day. Thankfully, I'm not in this for the money so I am passionately pursuing the world of social media and marketing without immense pressure. The only pressure I have is the determination to fulfill my dream of being a no.1 best seller and watching the premier of the movie adaptation of my book.
I will get there, one Instagram post at a time.
Any advice that you would like to give to other newbies considering becoming Indie authors?
Start a YouTube channel. This will teach you so much about marketing and social media. I started a comedy cooking show to learn all aspects of the digital world and now that it's to promote my book instead of a questionable orange milkshake recipe, that world doesn't feel as scary as it once did.
About You
Where did you grow up?
Bristol, United Kingdom.
Where do you live now?
I live in Bristol, which is one of the most creative cities in the UK. So I'm never short of inspiration when I walk along the harbourside.
What would you like readers to know about you?
I would like readers to know that the countless hours spent sat at my desk writing and watching the overweight woodland pigeons eat berries in my garden, was all worth it.
What are you working on now?
I'm working on a new book in a different universe to my current one. However, I haven't left the animal kingdom; birds are well and truly in the spotlight this time around…and there may be a cameo from an overweight woodland pigeon.
End of Interview:
For more from Jason visit his webpage, follow him on Instagram or like his Facebook page.