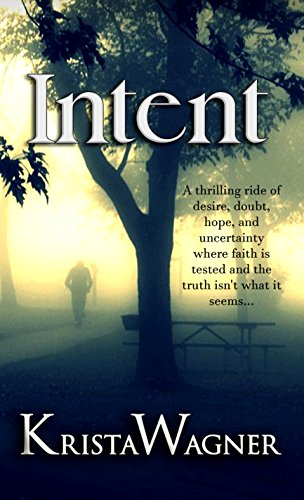 I expected mostly young female adults to like the story, but my audience turned out to be children in their young teens through adults in their sixties, both male and female, both Christian and non-Christian, of all kinds of backgrounds.
Krista Wagner – 7 March 2017
The Back Flap
Trying to deal with small town life and feeling that she has no real purpose, Raylee Johnson finds a new source of confidence when her former high school crush returns to town. When she begins to feel better about the direction her life is going, Raylee is thrust into a maze of doubt, uncertainty, murder, and deceit where the only thing she does know for sure is that her life is engulfed in lies.
About the book
When did you start writing the book?
In 2013. My final class for the MFA in Creative Writing program required me to create a full-length movie script. So, Intent started out as a movie and over the summer I turned it into a full-length novel.
How long did it take you to write it?
Since I already had the template from the film all written out, filling in some narrative was left for the novel version. On a family cross-country road trip, it took me two weeks to write out the novel.
Where did you get the idea from?
This one came under pressure. I had 4 weeks to write a complete screenplay, so I had to figure it out relatively quickly. Unlike some of my other stories, these characters and the plot came upon me in a delightfully spontaneous way.
Were there any parts of the book where you struggled?
Since mystery plays into Raylee's realm, I had to find ways for pieces of the puzzle to logically come together and ways to make the villain not obscure.
What came easily?
Writing the villain. Evil is easy to illuminate once it's revealed.
Are your characters entirely fictitious or have you borrowed from real world people you know?
Little bits of them do come from people I have known, but for the most part, they are fictitious.
We all know how important it is for writers to read. Are there any particular authors that have influenced how you write and, if so, how have they influenced you?
Dean Koontz, by far, has influenced me the most. Many of his novels are thrillers written in a rich complex style with deeply disturbing villains and realistic heroines. Christopher Pike also majorly influenced me through his simple yet amazingly written teens and intricately designed plots.
Do you have a target reader?
Indeed. My stories deal with issues that anyone, regardless of gender, age, or beliefs, can relate to. Intent, for instance, contains issues of doubt, hope, faith, loss of faith, desire, fear. I expected mostly young female adults to like the story, but my audience turned out to be children in their young teens through adults in their sixties, both male and female, both Christian and non-Christian, of all kinds of backgrounds.
About Writing
Do you have a writing process? If so can you please describe it?
I write when it's late at night (I'm a night owl), when the kids are asleep and I'm not going to be interrupted. A Pepsi at my fingertips helps too.
Do you outline? If so, do you do so extensively or just chapter headings and a couple of sentences?
I do not outline. I find that the story comes to me as a nice surprise sometimes and once I start writing, it continues to beautifully unravel, without a set outline, just naturally and mysteriously.
Do you edit as you go or wait until you've finished?
I wait until I have finished writing the story, though if I change something (like a date or a person's identity) I will go back to make sure other places rhyme. I also have learned that it's best to do the technical things after the story is done in order to avoid tripping up its pace.
 Do you listen to music while you write? If yes, what gets the fingers tapping?
Sometimes. But usually what gets the story told are the characters coming to life. I put them in a situation where I discover more about who they are. Circumstances and conversations reveal more and more of how they will handle life in those moments.
About Publishing
Did you submit your work to Agents?
At first, yes, but it was only the publishers who expressed interest.
 What made you decide to go Indie, whether self-publishing or with an indie publisher?
It wasn't really a choice, it was just that the small presses were the only ones who responded.
 Was it a particular event or a gradual process?
It took some months to hear back from anyone with my first novel. But when I started querying about my middle-grade fantasy The Gold, I received a response from another small press within a month.
Did you get your book cover professionally done or did you do it yourself?
 TouchPoint Press let me decide on the cover. I chose the covers for my two self-pubs, indigo and Rian Field and CleanReads had a professional graphic designer create the cover for The Gold.
 Do you have a marketing plan for the book or are you just winging it?
I have done a ton of marketing for all of my books with social media advertising, interviews, book signings, giveaways, and more.
Any advice that you would like to give to other newbies considering becoming Indie authors?
You are literally one of millions, so be strong, be brave, and endure the murky waters.
About You
Where did you grow up?
San Bernardino
Where do you live now?
San Bernardino
What would you like readers to know about you?
I have been an English Professor for the past decade, I have three amazing kids and an awesome Marine Corp veteran for a husband, and the Bible anchors me every step of the way.
End of Interview:
For more from Krista, visit her website, follow her on Twitter, or like her Facebook page.