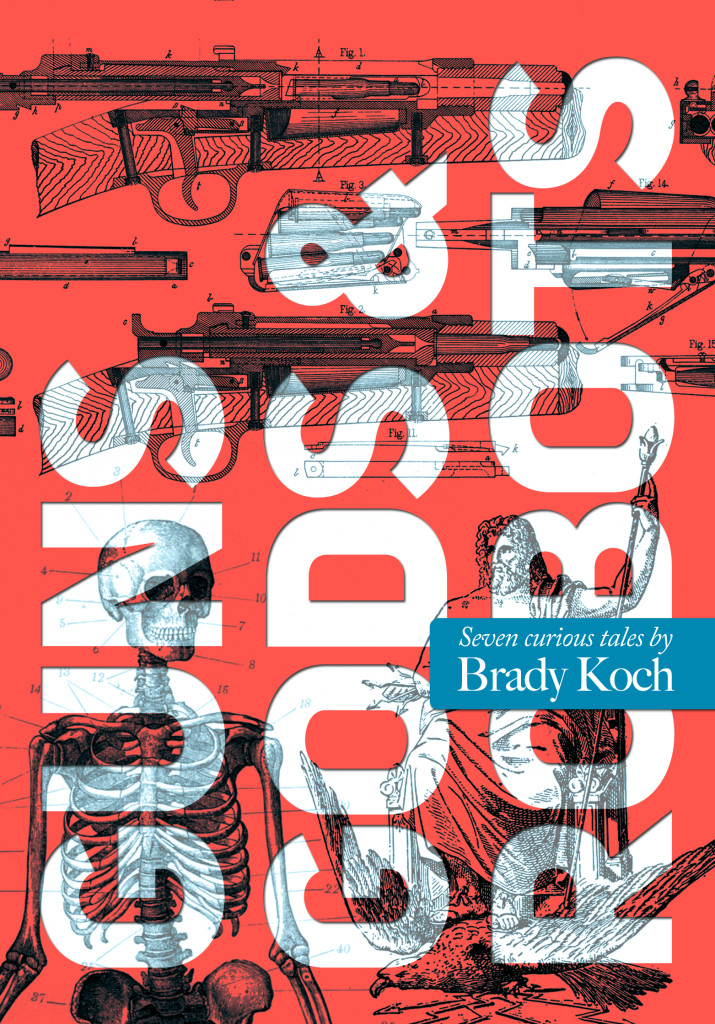 I like my stories to go unexpected places and I need readers to be willing to go with me. I promise that any left turn will not be simply for the sake of a shock or surprise, but will wholly serve the story and perhaps give the reader a reason to re-read from a wholly different context.
Brady Koch – 8 February 2016
The Back Flap
Guns: A girl's birthday wish comes true when she gets to spend an afternoon on manhunt with her lawman father. 
Gods: An old man discovers his crops aren't the only dead things on his farm. 
Robots: A heartless machine built for compassion malfunctions, leading its engineer on a hunt to fix the corruption before it spreads. 
In Guns, Gods & Robots, Brady Koch, mixes and remixes three themes across this collection of stories and novellas that spans the range of science fiction and horror. The stories, collected here for the first time, range from the uplifting to the horrifying. Sure to spark your imagination, the seven stories in Guns, Gods & Robots will also keep you up at night. 
ENJOY.
About the book
What is the book about?
Guns, Gods & Robots is a sci-fi collection of stories about people making bad decisions while attempting to solve problems. The book covers a spectrum of my favorite genre staples like the apocalypse, evil tech corporations and my absolute favorite: robots. I ultimately wrote the exact kinds of stories that I would personally like to watch as movies. Trust me, like most writers I've talked to, most of the characters in this book have already been cast in my head.
When did you start writing the book?
I've been working on this book in bits and pieces since Winter of 2014. In the time I wrote all of the stories for this collection, I've also completed a chapter book for younger readers and innumerable pieces of flash fiction to keep the razor sharp.
How long did it take you to write it?
All told it took a year and a half. I wanted to separate myself from the work for about six months to give me the right distance to properly edit the work and select the final stories for the collection. The first draft was about 20,000 words longer than the final.
Where did you get the idea from?
I like to say that each of these seven stories addresses a deep held fear of my own. From literal scary things, to some things more existential. I have a penchant for robots so I'm always looking for ways to sneak one or two into the stories.
Were there any parts of the book where you struggled?
Editing down Popular Mechanics for Young Widows was challenging. It was originally novella length with the idea of it playing out like a soap opera. I can't say that I succeeded in hitting the right tone, so I revisited the whole story, going back to my original lean outline. Realizing how far I'd drifted from the story I'd wanted to tell from the beginning, I nearly started over. I'm happy with the final product and like how it fits into the flow of the final collection.
What came easily?
I love writing dialogue. I often overwrite exchanges between characters knowing I'll have to cut it back later.
Are your characters entirely fictitious or have you borrowed from real world people you know?
I don't like to lift people from my life for stories. There may be phrases or mannerisms that sneak in there, but these characters are safely my own. As the disclaimer goes, any resemblance to real persons living or dead, is purely coincidental.
We all know how important it is for writers to read. Are there any particular authors that have influenced how you write and, if so, how have they influenced you?
Gary Larson. I read a lot when I was a younger, but The Far Side was critical for me. Gary Larson had to build a world and characters every single day and was limited to a small rectangle. I like to think of my own stories the same way. "How much story can I pack in to this small space?"
Do you have a target reader?
I like anyone looking for something a little different. People that write off entire generes disappoint me. I like my stories to go unexpected places and I need readers to be willing to go with me. I promise that any left turn will not be simply for the sake of a shock or surprise, but will wholly serve the story and perhaps give the reader a reason to re-read from a wholly different context.
About Writing
Do you have a writing process? If so can you please describe it?
I started exclusively writing on trains with my commute. I'd create content on the way into work and edit on the way home. I've recently moved and my commute is a bit shorter, so I write late at nights after everyone's asleep.
Do you outline? If so, do you do so extensively or just chapter headings and a couple of sentences?
I work from bullet point outlines. I map out the whole story with key scenes fleshed out a little more than others. I always give my chapters names to remind me of that sections purpose in the whole story. For instance one of the GGR chapter headings was "Omar visits and plants a seed of doubt."
Do you edit as you go or wait until you've finished?
I edit as I go. Then when the whole book is done I let it sit for few months the come back to it.
Did you hire a professional editor?
That's on the wish list. I love the autonomy of self-publishing, but there's no doubt I'm jealous of anyone able to get a professional editor. I'm open to all recommendations in this space.
Do you listen to music while you write? If yes, what gets the fingers tapping?
I only listen to classical music. Not because I'm a highfalutin music snob, but because it's easy to keep it in the background. I'm easily distracted so as soon as I hear lyrics, I lose focus. There was a lot of Dvorak playing while I wrote Guns, Gods & Robots.
About Publishing
Did you submit your work to Agents?
No I didn't get that far. I treat writing as a side project at the moment and I fear that the more in time I invest in playing the publication game, the less chance I will actually get my work out to the public. I write to be read and really like how fast I can get a story out to an audience through self-publishing.
Did you get your book cover professionally done or did you do it yourself?
I kind of randomly connected with my cover designer through Fiverr when I was on the hunt for someone to polish my concept for a novella cover. I liked how it turned out and I've been working with him ever since. I like to go to my designers with a specific idea in mind and let them dress it up. I thought it was interesting enough to detail on my own website.
Do you have a marketing plan for the book or are you just winging it?
I'm still learning about marketing, so this is just me figuring out what I can do in my spare hours after the family falls asleep. I've made some connections through my flash fiction writing that I've been able to get involved in sharing my book. I've had some fun with my #GGRFlyer campaign that embraces a guerrilla approach to marketing with the prize of free book downloads for participants.
Any advice that you would like to give to other newbies considering becoming Indie authors?
Go ahead and share whatever work you have on the shelf. It's scary as hell putting work out for anyone to read, but at sometimes you have to learn to swim by throwing yourself into the pool. Plus, this is all online. If you want to change the story later, just publish a new draft.
About You
What are you working on now?
I'm working on a new science fiction novel about a family of physicists exiled in the desert. Think of them as a cult, but instead of a charismatic leader, they are unified under an unsolvable equation. Unfortunately there's no robots in this one.
End of Interview:
For more from Brady, visit his website.
Get your copy of Guns, Gods & Robots from Amazon US or Amazon UK.