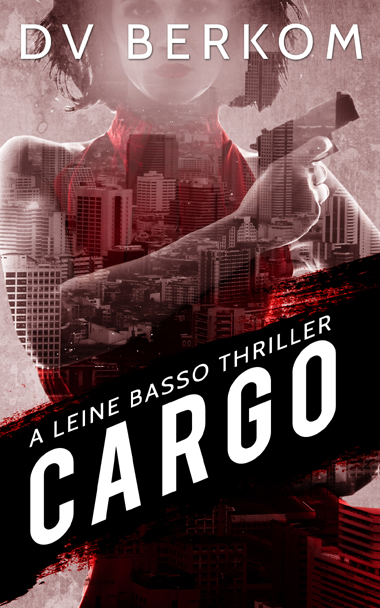 I've had readers comment in reviews and emails that Leine Basso could easily stand toe to toe with the likes of Jack Reacher or Joe Pike. Such high praise is music to my ears.
DV Berkom – 13 December 2015
The Back Flap
Money—the universal merchant. Anyone can be bought, anyone can be sold. 
Anyone. 
Haunted by memories of an op gone bad, former assassin Leine Basso travels to Bangkok in search of a missing backpacker. With help from an old contact, she discovers the man responsible for the girl's disappearance is connected to a violent Hong Kong triad and is the linchpin of an extensive trafficking network—both animal and human. 
Making enemies isn't new for Leine, but making one in the triad is—she soon finds herself a prisoner on board a cargo ship headed for sub-Saharan Africa. To ensure her survival and to continue her hunt for the missing girl, she must join forces with Derek, an ivory poacher who promises to help her. 
For a price.
About the book
What is the book about?
In a story ripped from the headlines, former assassin Leine Basso goes head to head with a member of a deadly triad and is pulled deeper into the dangerous underworld of human and animal trafficking. Cargo takes an unflinching look at ivory poaching and canned hunts, as well as the greed, corruption, and deadly methods prevalent today in the trafficking of ivory and endangered species. Thoroughly researched, Cargo packs a vicious punch and will keep you up nights as you follow Leine from Bangkok to Dar es Salaam, to the wilds of Tanzania. 
When did you start writing the book?
I started my research early this year (2015) after reading an article on ivory poaching in Tanzania and Kenya. Shortly afterward, I reconnected with an old friend who now lives in Tanzania. I explained my idea for the book and he agreed to help me with research. So I committed to taking Leine Basso on an international adventure, dealing with the gritty underworld of ivory poaching and human and endangered species trafficking, and began writing the book in March.
How long did it take you to write it?
Four months for a draft I felt was good enough to send to my editor and advance readers.
Where did you get the idea from?
As with most of my books, I got the idea from an article I read. (See answer above) Since my character, Leine, was already involved with an anti-trafficking organization in Bad Traffick and The Body Market, the subject matter seemed a logical progression for the series. Besides, I love to research and write about the gritty underworld of organized crime, and the subject matter in Cargo certainly fits the bill.
Were there any parts of the book where you struggled?
Each book has its challenges, and this one was no different. My friend in Tanzania helped immensely with descriptions of specific regions of Africa, so although that part of the book was a stretch, I'm certain it's reasonably accurate. As for scenes in Bangkok and the gun fights and sniper scenes, I'm fortunate to have a Special Ops contact (I call him SFD for Special Forces Dude) that gets a kick out of consulting on my books.
What came easily?
The characters always come fully formed—and not just the recurring ones. I discover more nuances as I write each one, but first impressions and their basic natures remain constant.
Are your characters entirely fictitious or have you borrowed from real world people you know?
Both. I never use a wholesale description of anyone in my books—it ends up being more like a montage of several. I pick and choose the quirks and foibles of the thousands of people I've met.
Do you have a target reader for this book?
Anyone who loves an action-packed thriller that deals with contemporary issues, one that features a strong female character who knows her way around a firearm. I've had readers comment in reviews and emails that Leine Basso could easily stand toe to toe with the likes of Jack Reacher or Joe Pike. Such high praise is music to my ears.
How was writing this book different from what you'd experienced writing previous books?
It was pretty far outside of my comfort zone, as I didn't know a lot about Tanzania's day-to-day culture. My friend's assistance was invaluable—he read it over and provided details that only someone who lived there would know. My favorite was when he described how hyenas eating sounded like someone munching on popcorn. You don't hear that every day.
What new things did you learn about writing, publishing, and/or yourself while writing and preparing this book for publication?
I learned (again) that writing a book is hard, and it's a great feeling when you're finished. I also learned (better this time) how to wait for just the right moment to publish instead of pulling the trigger as soon as I think it's ready. Much as I hate to admit it, in this business patience can be useful.
End of Interview:
For more from DV Berkom, visit her website or blog, follow her on Twitter, or like her Facebook page.
Get your copy of Cargo from Amazon US (paper or ebook), Amazon UK (paper or ebook), Barnes & Noble, or Smashwords.