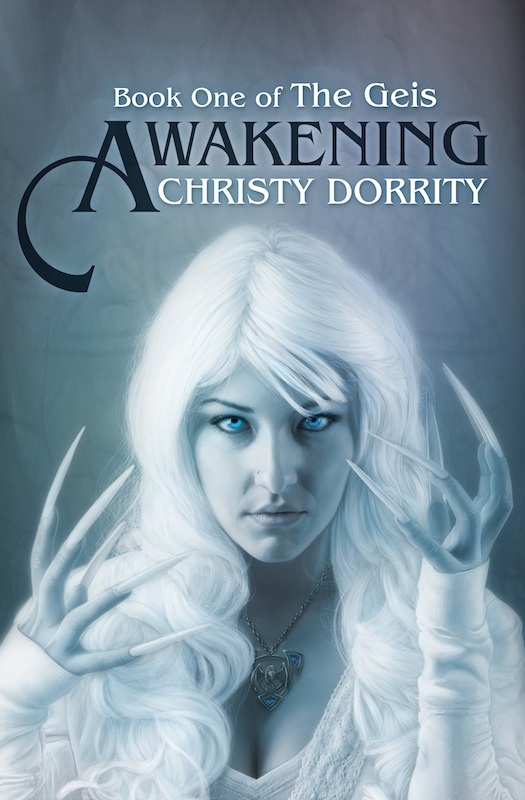 I love having the freedom to have creative control over my own work, as well as the flexibility of my own deadlines. Besides, I would rather pursue an Indie career and get my work out to readers rather than play the lottery with the big publishers. 
Christy Dorrity – 17 November 2013
The Back Flap
About the book
What is the book about?
An Irish dancer must help her mentor return to the land of youth before an ancient evil kills her and her family.
When did you start writing the book?
Over five years ago.
How long did it take you to write it?
It took me roughly four years to finish Awakening.
Where did you get the idea from?
I began taking Irish dance lessons when my second child was born. I fell in love with it and was fascinated with the culture and Celtic mythology. It was only natural that I should write about such a fascinating topic.
Were there any parts of the book where you struggled?
It was hard to figure out how to include Rourke, who is mute but not deaf, in conversations. There are times when he cannot communicate how he feels, and I wanted it to be frustrating for him, but not for the reader.
What came easily?
All of the scenes that involve Irish dance just flowed. And quirky Aunt Avril fairly leaped off of the page. She is so fun to write, and she practically tells me what she wants to do.
Are your characters entirely fictitious or have you borrowed from real world people you know?
I think all of my characters have a little bit of people I know in them. There is one character in my book who is based on an actual person—a real police officer who lives in Star Valley.
We all know how important it is for writers to read. Are there any particular authors that have influenced how you write and, if so, how have they influenced you?
When I was a child I loved C.S. Lewis and Madeleine L'Engle. Anything fantastic really sparked my imagination.
Do you have a target reader?
My target audience is broad. Awakening is targeted at young adults, but it has wide appeal. There is a teen romance, and a romance for the twenty-something crowd. The characters vary, from eleven-year-old Zoey, to the unique over-fifty Aunt Avril.
About Writing
Do you have a writing process? If so can you please describe it?
I do a lot of brainstorming out of the gate. I research Celtic mythology, and look for names, and cool magic ideas. Then I start to flesh out a skeleton of an outline.
Do you outline? If so, do you do so extensively or just chapter headings and a couple of sentences?
I do a fairly extensive outline, spending at least a paragraph on each scene before I ever start writing.
Do you edit as you go or wait until you've finished?
Sometimes I'll go back and tweak a thing or two, but for the most part I wait until I'm finished to edit.
Did you hire a professional editor?
Absolutely! With Awakening I had four different editors. An editor is an absolute must if an author is an Indie.
Do you listen to music while you write? If yes, what gets the fingers tapping?
I listen to Pandora radio stations while I'm writing—mostly John Schmidt and Celtic Women. Sometimes I listen to my Irish dance practice music.
About Publishing
Did you submit your work to Agents?
I did not submit Awakening to any agents or publishers. I had already made the decision to self-publish.
What made you decide to go Indie, whether self-publishing or with an indie publisher? Was it a particular event or a gradual process?
I am a stay-at-home mom of five amazing kids. I love having the freedom to have creative control over my own work, as well as the flexibility of my own deadlines. Besides, I would rather pursue an Indie career and get my work out to readers rather than play the lottery with the big publishers.
Did you get your book cover professionally done or did you do it yourself?
Yes, and yes. My husband Devon Dorrity is a graphic artist and he created the cover. I am thrilled with the way it turned out. Most people should not create their own covers—it is worth the money to hire a professional.
Do you have a marketing plan for the book or are you just winging it?
I am constantly looking for reviewers, and participating in marketing strategies to try and get the word out about my work.
Any advice that you would like to give to other newbies considering becoming Indie authors?
Believe in your work. You are your own publicist, and if you don't shout out the word, no one will! There's a certain amount of fake it 'till you make it when it comes to Indie publishing. Be brave. Ask that author whose book is in your genre for a cover quote. Put yourself out there in the public eye. Contact the local radio station. No one else is going to do it for you.
About You
Where did you grow up?
I grew up in Star Valley, Wyoming, the small town that is the setting of Awakening.
Where do you live now?
I live in the mountains in Utah. It reminds me of home.
What would you like readers to know about you?
I am a champion level Irish dancer and I'm currently training to attend the WIDA World and European Irish Dance competition in 2014.
What are you working on now?
I am hard at work on Book Two of The Geis, which will be released in 2014. Also coming soon is the third volume of The Book Blogger's Cookbook.
End if Interview:
For more, visit Christy's website. You can also follow her on twitter or like her facebook page.
Get you copy of Awakening from Amazon US (paper or ebook) or Amazon UK (paper or ebook).