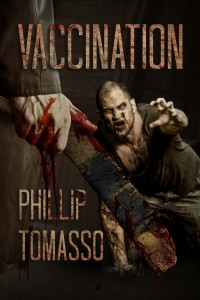 This always, always sounds so cliché. A writer must write. Every day. Even if it is for a short period. A blog, or a poem.  A writer must read. Read everything in the genre they write in. 
Phillip Tomasso – 14 November 2013
The Back Flap
What if the H1N1 vaccination wasn't just a preventative measure against swine flu, and the side effects were catastrophic?
It seems like the flu came out of nowhere and yet, in no time at all the government manufactured plenty of vaccination to share across the country. Were lab workers diligent, or could the virus itself have been man-made?
Imagine a contaminated strain of the vaccination reaching the public. Those injected might not get the flu, but the turning into zombie-like creatures was never listed on the pharmacy receipt.
Chase McKinney is divorced and works as a fire dispatcher at 9-1-1. Taking emergency calls, it becomes immediately obvious that the entire city is infected. His first goal is to reach and save his two children.
Could the walls built by the U.S.A. to keep out illegal aliens, and the fact the Mexican government could not vaccinate their citizens against the flu, make the southern border the only plausible destination for safety?
About the book
What is the book about?
Chase McKinney is a 911 fire dispatcher taking emergency calls when all hell lets loose in the city. It becomes immediately clear that something is terribly wrong. People are being attacked by other, sick people. Divorced with children, all McKinney can think about is getting from where he works to his ex-wife's house. He wants his kids. He knows only he can protect them.
When did you start writing the book?
Originally, Vaccination was a short story published in the Halloween edition of Shroud in 2010. Was about a year later, around October 2011 that I fleshed out the idea into a novel.
How long did it take you to write it?
I started writing the novel around February 2012, worked on it in between other writing projects, and completed it in mid-2013.
Where did you get the idea from?
All too often movies and television shows and books focus on responders on the "other" side of the radio. Often 911 employees are forgotten. Or included as an afterthought. Truth is the 911 world is hectic and chaotic and stressful. They take the calls. Dispatch responders and then … rarely hear an outcome. There is a lot to the job. And since I work in this environment, I wanted to attempt relaying some of the realities – with zombies, of course.
Were there any parts of the book where you struggled?
This may be one of my … angriest novels. McKinney went through a messy divorce. Misses his kids. Maybe drinks and smokes too much. Hates his ex-wife. Most authors put a lot of themselves, their personal experiences into their characters and writing. While my own divorce was amicable, it was hard to rein in emotions when I placed myself into my characters. And imagining my kids (while I have 3, and there are only 2 in the novel) in need of my help and my protection – that was tough. Very emotional for me as I wrote the story.
What came easily?
Easy? I knew my characters. Knew what I needed them to do. Where I needed the story to go. While I don't necessarily outline, I do mentally map. In my head, the map is roughly …  visible, I don't always see the twists and turns. That, though, is part of the fun of writing. Seeing what my characters want to do, and then me letting them. If that makes any sense. I find that easy.
Are your characters entirely fictitious or have you borrowed from real world people you know?
I used all fictitious characters. However, I am using first and sometimes last names of actual friends who work with me at 911. Trouble is, I can't create enough characters to make everyone happy. Half the people at work love me. Half are mad at me – wanting to know when I am going to use their name. Tough crowd <adjusts knot in necktie> tough crowd.
We all know how important it is for writers to read. Are there any particular authors that have influenced how you write and, if so, how have they influenced you?
I read non-stop. Horror has always been my favorite. Joe Mckinney (interesting last name) is one of my favorite zombie novelists. Stephen King, from the time I was fourteen. Dean Koontz. John Saul. Robin Cook. Early James Patterson. Charlie Huston. Kat Richardson. Terry Brooks. The list goes on and on and on … and each inspires me for so many reasons. What I like about how they do something, what I don't like. Where they take a story opposed to where I would have taken it. I think that the more I read, the more authors I read, the more I become a better writer.
Do you have a target reader?
I do. Zombie fans. Horror fans. Thriller fans. And anyone who enjoys a character driven novel. Because while there are a ton of zombies, it is not about them. It is about the journey and the change and the growth and courage of my characters that makes Vaccination the story it is.
About Writing
Do you have a writing process? If so can you please describe it?
My process is probably not unique. I have notes on scraps of paper, on my memo function on my phone, napkins, and my hand. I work midnights.  Often, I have the opportunity to write at work, thanks to Google Docs. (Can I say that?).  I am most … creative during the night. On my days off, the same thing. Around  10 PM, I brew a pot of coffee and write until I feel the need to force the story. Once I feel like I am forcing it, I stop.  Some mornings, if I feel particularly motivated, I will write – again, with a pot of coffee. But never after work. When I get out of work, I like to have a beer and watch some cartoons until I fall asleep.
Do you outline? If so, do you do so extensively or just chapter headings and a couple of sentences?
I do not outline, per se. I mean, I do. Just not – really.  The notes I mentioned. The scribbles. What I think about day in and day out, planning in my mind what I need to do, what needs to be done, how it will all unfold – that is outlining. It's just, there is nothing structured at all about it. Not a thing.
Do you edit as you go or wait until you've finished?
I edit as I go, in a way. When I turn on my laptop, I re-read the last chapter or two. Gets me in the writing mode, and do some quick line editing, or tweaking, and then delve into the writing. When I am all done with the manuscript – THEN I EDIT. REWRITE AND EDIT.
Do you listen to music while you write? If yes, what gets the fingers tapping?
I have to listen to music when I write. Headphones on. Volume turned to 10. My tastes range. I have a playlist that includes bands like Lorde and Train and Bruno Mars, to Jonny Lang, Buddy Guy, Adele, Michelle Branch. I have 3 Doors Down, Goo Goo Dolls, Counting Crows and Maroon 5, as well.  There's also some Fuel, Nirvana and Ratt for good measure.
About Publishing
Did you submit your work to Agents?
I've had agents. They've helped with sales of some of my earlier books. But recently, I've been doing it on my own. Vaccination is my 11th published novel.  The 9th I've placed with a small press without an agent. I would use an agent again, though. If it seemed right.
What made you decide to go with an indie publisher? Was it a particular event or a gradual process?
I've had mild success as a writer. The indie presses have been, for the most part, awesome to work with. More personal. Severed Press is outstanding, and renowned for post-apocalyptic novels. When they offered me a contract for a trilogy (and talks to possibly do more in the future), I was thrilled!
Did you get your book cover professionally done or did you do it yourself?
The publisher handled the artwork. Asked for some ideas. They really, I think, did a fantastic job!
Do you have a marketing plan for the book or are you just winging it?
Severed Press moved fast. From the signing of the contract, working with the editor and getting it out and available. Was at a breakneck pace. My marketing plan has been Facebook, Twitter, YouTube and Goodreads promotions. 'Zine Interviews, book reviews, radio interviews, and book signings are all in the works.
Any advice that you would like to give to other newbies considering becoming Indie authors?
This always, always sounds so cliché. A writer must write. Every day. Even if it is for a short period. A blog, or a poem.  A writer must read. Read everything in the genre they write in. Develop a thick skin. Don't take criticism personally, listen to it. Take what you can from it. And learn. Join a writer's group. My local Barnes & Noble has several small groups that meet once a month and help each other with writing projects. An awesome resource.  Lastly, never quit submitting. Don't give up.
About You
Where did you grow up?
I was born and raised in Rochester, NY. Moved maybe 5 miles north of my parents.
What would you like readers to know about you?
Nothing is more important to me than my own kids. I love my job. Am fortunate to have a government position that is challenging and exciting, and allows me to look forward to work each night. But it is not who I am. I am a father first. Everything I do, it's for them. I have the most amazing three kids a father could ever want. My oldest is my sounding board for ideas. We talk non-stop about the story I am working on at the time, what can make it more intense, move it forward. He even filmed and directed the video book trailer for Vaccination. Without them, I'd have nothing. Be nowhere. So I feel very lucky, and blessed.
What are you working on now?
I have a YA novel due out mid-October from Barking Rain Press. Sounds of Silence.  Imagine you're a healthy twelve-year-old, carefree and prone to dreaming. You're the star pitcher for your baseball team and you hit the winning home-run against your cross-town rivals. You revel in the cheering, the applause, the atmosphere. But after the game, you become sick. Rushed to the hospital and stuck with needles, poked and prodded, your world spins out of control. When you wake, you are deaf and your dreams crumble.
This Young Adult novel shows how Marco Lippa deals with his deafness and comes to terms with his grief and anger and lost dreams. Marco is forced to leave his comfortable home, and adapt to life away from his family. He needs to relearn how to communicate and function without his hearing, while beset by the normal anxieties of a teenage boy—bullies, girls, and fitting in.
Additionally, the second book in the Vaccination trilogy, Evacuation will be released around Christmastime this year. The third, Preservation, around Valentine's Day 2014.
So … I am quite, quite busy and loving it, and want to thank you for this opportunity to talk!
End of Interview:
You can find out more about Phillip and his book at his website or that of his publishers, Severed Press and Barking Rain Press. You might also follow him on twitter or like his facebook page.
Get your copy of Vaccination at Amazon US (paper or ebook) or Amazon UK (paper or ebook).