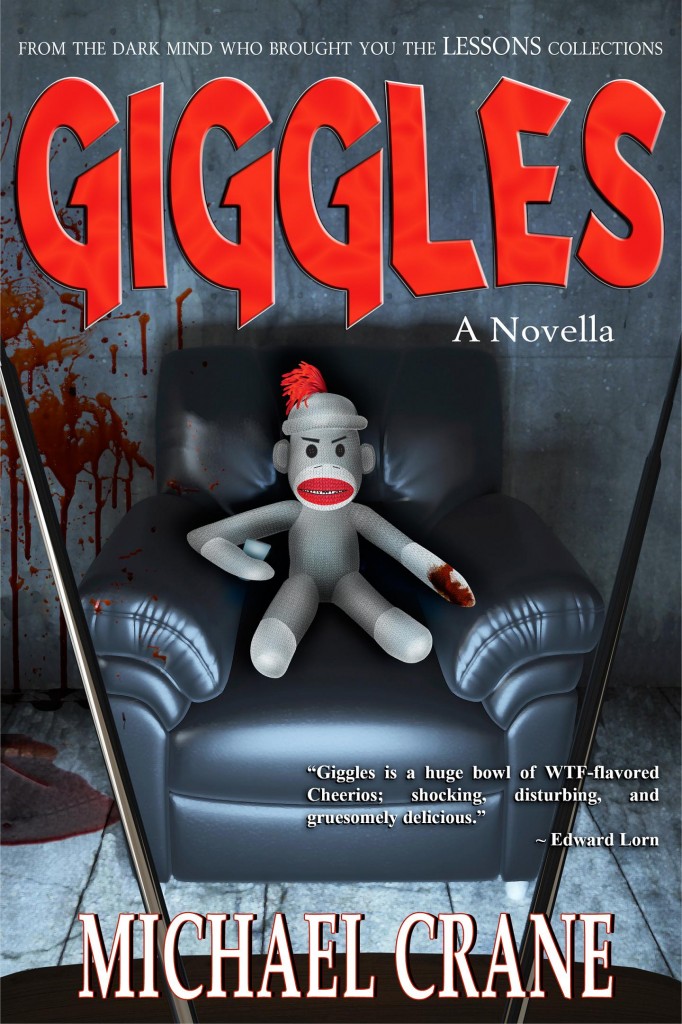 I won't lie. I was a little freaked out. I think that's when I got the idea. To sort of calm me down a little. Thinking about what Mr. Giggles would do to those crooks kind of made me happy. It was a way to confront my fear. 
Michael Crane – 26 September 2013
The Back Flap
It was supposed to be a simple robbery. But when things go horribly wrong and a bank teller winds up dead, Chad and Ray need to keep themselves hidden from the law. They find a house where conveniently the family is absent. It should've been the perfect place for them to stay out of danger.
But there's a greater danger lurking inside. A child's sock monkey waits in the shadows and has terrible, awful plans for the pair.
From the author of Lessons and Other Morbid Drabbles comes a tale of pure terror and mind games.
Mr. Giggles is ready to play…
About the book
What is the book about?
Giggles (a novella) revolves around a character from my Lessons short story (drabble) collections. He's a vicious children's sock monkey with a disturbing appetite for violence and evil. The novella's a standalone work and you don't have to be familiar with any of the Lessons books in order to enjoy it (well… "enjoy" might be the wrong word). In short, it's about these two bank robbers who are trying to hide from the cops after a robbery goes horribly wrong, leaving a bank teller dead. They find a house where the family is conveniently gone. They don't realize, however, that an evil child's toy is waiting in the shadows for them.
Giggles is definitely my first attempt at some serious horror—although there is some dark humor in it. It's also what I'd call my first legit attempt at something longer. I'm more known for writing short stories.
When did you start writing the book?
I originally had the idea back in 2011. I ended up working on an outline in '12, but never got around to finishing it. I think that's when my grandpa on my mother's side passed away. I kind of put writing on hold for a while. Before that, I started work on a haunted house story for National Novel Writing Month (NaNoWriMo), but never finished it. I ended up using some of the material for Giggles.
How long did it take you to write it?
Once I finally sat down and decided to write it, not long at all. The first draft took me a little less than a month. Second draft about the same, not counting working on notes from beta readers, and also notes and suggestions from editors.
Where did you get the idea from?
I was trying to remember how it exactly came about. At first, I thought I'd gotten the initial idea by just asking myself what would happen if a couple of crooks were left alone in a house with Mr. Giggles. The idea intrigued the hell out of me, even if I didn't get around to writing it right away.
But then I remembered it was during the time my parents' neighborhood was kind of in a panic because there had been multiple robbery/home invasion attempts on a single house not too far away. And they lived in a very small, safe neighborhood. This was back in '11 and I was still living with my parents (and yes, I did finally make the move out of there!). I won't lie. I was a little freaked out. I think that's when I got the idea. To sort of calm me down a little. Thinking about what Mr. Giggles would do to those crooks kind of made me happy. It was a way to confront my fear. I think I didn't jump in right away because I thought I wasn't ready. It took long enough, but I'm glad it finally came together. The timing was perfect.
Were there any parts of the book where you struggled?
When I did the outline back in '12, I had a beginning, a middle… and a final scene. But not a real ending. I knew exactly where I wanted the story to end, but I didn't know how to get there. I think that's why I didn't come back to it for a while. It wasn't until a couple of months ago when I finally found my answer. I'd say more… but then people wouldn't read the book. They still might not read the book. I guess I can tell you. Wait, no… I shouldn't. Just read it!
What came easily?
The whole act of writing Giggles came very easily to me once I sat down and started writing it. My future brother-in-law suffered a really bad series of heart-attacks and a stroke not too long ago. He's doing better, but it's going to be a long fight. Before then, I was working on a short story collection like my previous collection, In Decline. This current project wasn't the happiest of ones. Not as heavy as my previous stuff, but it was something I wasn't ready to jump back into right after that happened.  I put off writing again. Then I forced myself to snap out of it. I wanted to write something that was far away from reality. And after reading Joe Hill's NOS4A2, that's when I realized I wanted to revisit the dark and terrible world of Mr. Giggles. It was easy writing something completely different for me. It was a great escape. Might not've been the most pleasant of escapes, but it was an escape all right!
Are your characters entirely fictitious or have you borrowed from real world people you know?
It depends. Sometimes I borrow from real life, but other times I like the challenge of creating characters that I don't know and haven't met yet. It's fun to see them interact with the world. I might throw in a trait or two based from real life, although it may not always be intentional. But for the most part, it's usually people I've completely made up in my head.
We all know how important it is for writers to read. Are there any particular authors that have influenced how you write and, if so, how have they influenced you?
Raymond Carver was a huge influence on me when it comes to short stories. Before I read him in college, I didn't know what I wanted to write. I was trying for these overly complicated and confusing plots. Carver showed me you didn't need any of that. A short story can be based off of everyday things, and it can be good. I think that's when I started writing slice-of-life pieces. I know people know me more for my Lessons books, but that will always be my favorite thing to write.
Do you have a target reader?
Pretty much anybody who wants to give me a shot. I know, that's a pretty vague answer. Not an impressive one, either. But it's the truth. Since I like to try different things with my writing, it's harder for me to find a certain type of reader. I'm okay with that, though. People who don't like my horror stories might like my slice-of-life stories better. People who might be bored to tears with my slice-of-life works might like my horror stuff better.
About Writing
Do you have a writing process? If so can you please describe it?
I really wished I had a process. Sad truth is, I don't. I don't have a schedule or anything. Sometimes I'll write during my breaks at work, and other times in the evening at home.
Do you outline? If so, do you do so extensively or just chapter headings and a couple of sentences?
Giggles was the first time where I used an outline. For short stories, I usually never outline since they're short, and half the time I only have a small idea of where it's going to go. For something longer, I knew I should probably outline. I think I overdid it. I had very detailed paragraphs in my outline beneath each chapter. I think the thing came to about 4,000 words or so. Yeah, I'm going to have to work on that.
Still, the outline was extremely helpful. I think one of my big fears about outlining was I'd have to follow it closely and never wander away from it. Not true. A few things I did learn and discover that went away from the outline as I was writing the book. I think I have a better attitude about them now, but I still need to work on me getting comfortable with them. Especially if I ever want to write something longer again.
Do you edit as you go or wait until you've finished?
Never when I'm doing the first draft, and that was a hard, hard habit to break. The first draft doesn't have to be perfect, especially when I'm going to completely rewrite it all. When I do the rewrites, I might edit as I go, but I also try to get to the end if I can help it. But never in a first draft. My only goal when I'm doing the first draft is to tell the story.
Did you hire a professional editor?
I submitted Giggles to Red Adept for a One-Pass edit after I sent it to beta readers. Cassie Cox at Red Adept had some really great editing suggestions and notes. A lot of unnecessary words were put out of their misery. I also sent it to Victory Editing for "Oops Detection" for a final read-through before pressing that submit button. Crystalle Berry was the one I worked with for that, and she was great. With something this long, I really wanted to make sure it was seen by a few people before I published. I'm really glad I did it that way. I can't even look at the first draft anymore. Or the second without all of the corrections. Oof. Talk about a real American Horror Story.
Do you listen to music while you write? If yes, what gets the fingers tapping?
It depends what kind of mood I'm in. Music certainly doesn't distract me, and sometimes it can help. I find listening to background music—like scores from movies or TV shows—help a lot. But recently I'm really into writing without any music playing.
About Publishing
Did you submit your work to Agents?
I used to submit my short stories to literary magazines, but I don't think I've ever tried to find an agent.
What made you decide to go Indie, whether self-publishing or with an indie publisher? Was it a particular event or a gradual process?
It was after I'd gotten my Kindle, and I saw that they were advertising a book showing you how you could publish your own book. I thought it'd be great to put out a short story collection. Even if I didn't sell a lot, it'd still be neat to have something out there. In Decline (stories) was my first serious attempt at that. I'm glad I did it. I never submit to magazines or publishing houses any more. I knew I'd never get rich or famous from my writing to begin with, so now I figure why not do it myself? I'm overwhelmed by the response from readers. It's exciting knowing that complete strangers are reading my work and are (hopefully) enjoying it!
Did you get your book cover professionally done or did you do it yourself?
Most of the time, I have a cover artist do it. T.M. Roy has done the covers for my Lessons books, and she also did it for Giggles. I love her work. I've never been disappointed and she always surprises me.
Do you have a marketing plan for the book or are you just winging it?
I just wing it, honestly. I know, not a great plan. I post on Facebook and Twitter, but I try my best not to be overbearing about it. I don't think people want to read nothing but your spam on their FB walls or Twitter feeds. I try to be funny about it, too.
One of my favorite people to follow on Twitter is Amanda Hocking. She rarely plugs her books and she has the funniest Tweets. She's definitely somebody I keep in mind when I maintain my Twitter page. I think people have more fun reading random stuff you're thinking about than a series of BUY MY BOOK BUY MY BOOK FOR GAWD'S SAKE BUY MY BOOK NOW Tweets non-stop. Then again, I have very few Twitter followers so maybe that stuff does work. I have a lot more fun being goofy and random on it. That's the main reason behind my inane Tweets.
Any advice that you would like to give to other newbies considering becoming Indie authors?
Don't obsess over reviews, and for the love of gawd do not snap at a reviewer. That never ends happily. If you put something out there, you're going to get a negative review at some point. It's not a question of if. It's going to happen. You have to do your best to deal with it in a mature manner. Yes, you're going to feel very hurt, especially the first time it happens. Talk with some of your author friends in private and get it out of your system. Usually the next day, you'll feel a lot better. A bad review is not the end of your writing career. If people see you handling a negative review poorly, that will be far more damaging.
And I mean it by not obsessing over your reviews. Try to think of it this way: Can you really imagine Stephen King sitting at home watching his Amazon product pages 24/7?
End of Interview:
For more, visit Michael's blog or follow him on twitter.
You can get your copy of Giggles from Amazon US, Amazon UK, Barnes & Noble, or Smashwords.