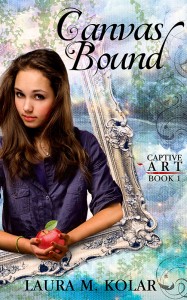 Do your research and be sure it's the right path for you, and find people you trust to work with throughout the process.
Laura M Kolar – 15 September 2013
The Back Flap
Sixteen-year-old Libby Tanner's art comes to life. Her painted skies turn from day to night, leaves rustle on trees, and sometimes, a mystery boy appears.
While attending England's Aldridge Art Academy, Libby meets charming Brent Henderson, a performing arts student who showers her with attention. But his rival, gorgeous Dean James, is the one who occupies her mind, even though he's very much attached to his current girlfriend.
Libby soon learns there's more to both Brent and Dean than she ever imagined. In order to save her future and the boy who's captured her heart, she must unlock the secrets behind her art by entering the most dangerous place of all… the world within her paintings.
But once she steps into the canvas, she risks being trapped forever.
About the book
What is the book about?
Canvas Bound is about Libby, a sixteen-year-old painter whose art comes to life within her canvases. There is a boy trapped in them as well.
When did you start writing the book?
November 2011, after my second knee surgery that year.
 How long did it take you to write it?
Sixty days exactly, you can get a lot of writing done when you're stuck in bed.
 Where did you get the idea from?
It was sort of a dream, but it came on full force after watching a Harry Potter movie, the one where Neville walks through the secret passage behind the painting.
Were there any parts of the book where you struggled?
Yes, the end of the story. It was hardest part to write and have it make sense.
What came easily?
Knowing the story. I had a few changes along the way, but once I got going, I knew exactly where I wanted the story to go and how it would end.
Are your characters entirely fictitious or have you borrowed from real world people you know?
Mostly fictitious. Some of the martial arts stuff I picked up from my brother, though.
 We all know how important it is for writers to read. Are there any particular authors that have influenced how you write and, if so, how have they influenced you?
Veronica Rossi comes to mind right away. I read her debut novel, Under the Never Sky, shortly before starting my edits on Canvas Bound and I channeled a lot of how she described things into what I was working on.
 Do you have a target reader?
I wrote it for young adults, but I know plenty of women my age *cough, thirty-something* who like to read YA.
About Writing
Do you have a writing process? If so can you please describe it?
The truth is I'm pretty scatter-brained. I write what comes into my head, sometimes it's just a few lines and sometimes it's an entire chapter.
Do you outline? If so, do you do so extensively or just chapter headings and a couple of sentences?
I started doing a little outlining with the next book in the Captive Art Series, but it's mostly so that I can remember everything I want to include in the story.
Do you edit as you go or wait until you've finished?
A little of both, but mostly I try to write the whole thing then let the story sit for awhile before I edit it.
Do you listen to music while you write? If yes, what gets the fingers tapping?
Not while I write. I need to have quiet or else I get too distracted. But I listen to music pretty much any other time and have play lists for each story I'm working on.
About Publishing
Did you submit your work to Agents?
Yep, I wrote 111 query letters and had several requests for fulls and partials before deciding to submit to Red Adept Publishing.
What made you decide to go Indie, whether self-publishing or with an indie publisher? Was it a particular event or a gradual process?
I met one of the other authors with R.A.P., Chanda Stafford. She raved about them and encouraged me to submit my manuscript. So glad I listened to her!
Did you get your book cover professionally done or did it you do it yourself?
R.A.P. works with an awesome team at Streetlight Graphics. They did my cover and it is beautiful!
Do you have a marketing plan for the book or are you just winging it?
I'm learning as I go. R.A.P. set up a blog tour for me during the month Canvas Bound is released. I'm also active on Twitter and Facebook. I'm up on Goodreads and have my own website, as well as contribute to a group blog, YA Stands.
Any advice that you would like to give to other newbies considering becoming Indie authors?
Do your research and be sure it's the right path for you, and find people you trust to work with throughout the process.
About You
Where did you grow up?
On the campus of Michigan State University where my mom finished her Ph.D.
Where do you live now?
Northern-lower-Michigan, a stone throw away from Lake Huron.
What would you like readers to know about you?
I'm a Twitter addict. I love to chat with readers and writers and it's the best place to find out what I'm up to.
What are you working on now?
A couple things, book two in the Captive Art Series, a contemporary YA about a hockey player and the aftermath of a one-night-stand, also a joint project with my critique partner, Erica Lucke Dean, about a step-mother and daughter.
End of Interview:
You can find out more from Laura's website and the other links she gave above.
You can get your copy of Canvas Bound from Amazon US (paper or ebook), Amazon UK (paper or ebook), or Barnes & Noble.
a Rafflecopter giveaway