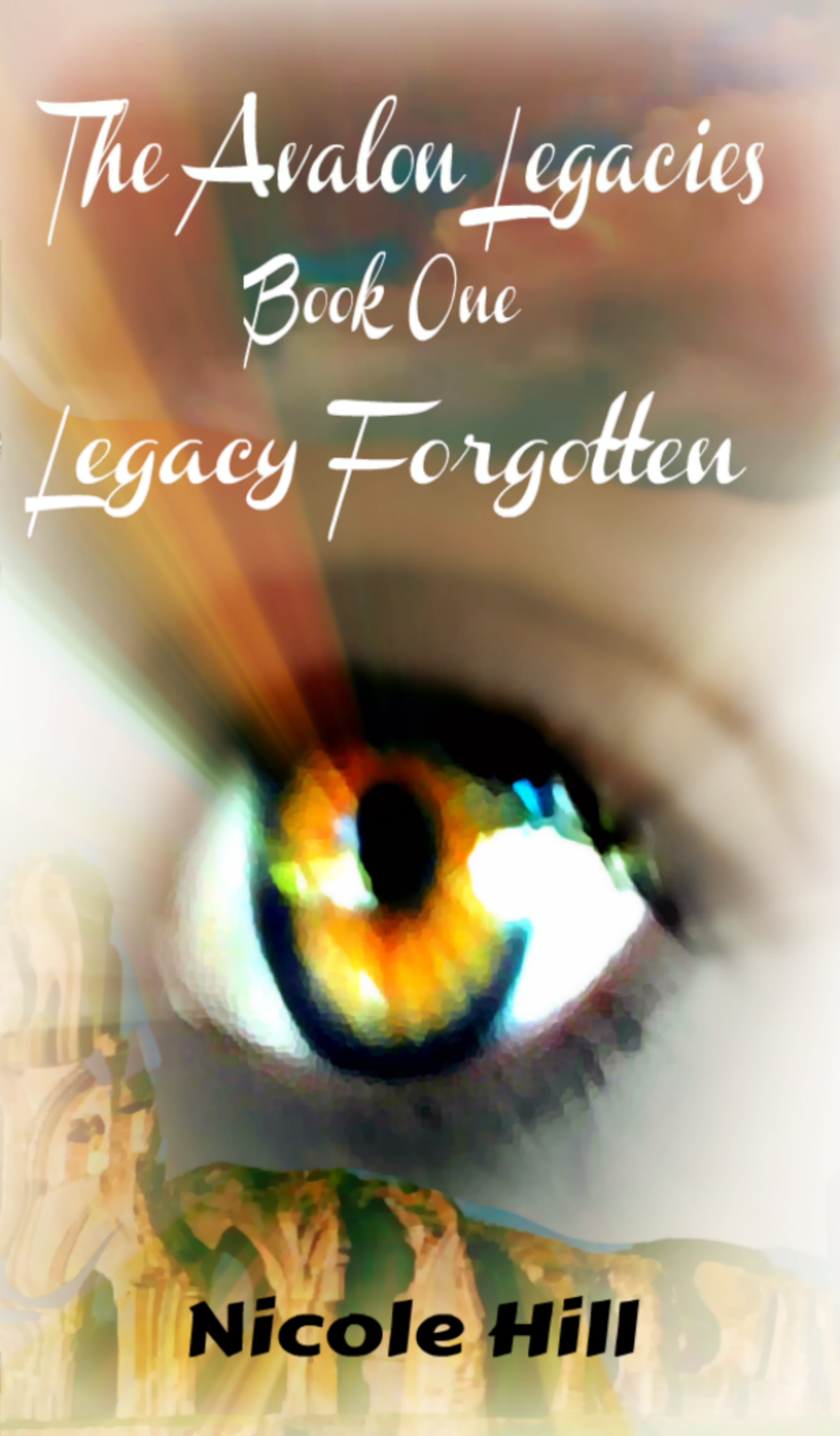 At around age nine, I became very interested in the tales of King Arthur and Morgan Le Fay. I loved the way magic was so alive in the legends and always lost myself entirely in the world of Merlin but always hated the way the legends ended. I was always left wondering why they were never given a chance to redeem themselves. 
Nicole Hill – 14 July 2013
The Back Flap
Ailis has spent her life pretending she didn't have powers and that things did not go bump in the night. Ailis is now a homicide detective. She is very good at her job and she's pretty sure the serial murders her unit is investigating aren't being committed by a human. In walks the most gorgeous man she's ever seen. What's wrong with that? Ailis not only knows he's a vampire. she also knows he's the one draining child molesters and murderers and leaving an empty carcass for her to find. Her investigation unearths secrets about her ancestors that take her back to Camelot and the time of King Arthur and Merlin so she can right a wrong committed by her family hundreds of years ago. Can she trust this strange, lonely vampire to help her solve a mystery that could very well end up with her being life challenged herself?
Dangerously attractive vampire, Kenneth has been around long enough to know there are no such things as coincidences. When he meets the undeniably strong willed homicide detective Ailis, he knows there's a good explanation as to why she looks identical to his long dead fiance. He just has to figure out what that might be. When his one hundred year nemesis shows up in Miami and tries to force Ailis to join him, Kenneth realizes her powers are worth something to even the worst of his kind. He pledges to protect her as long as he is still breathing. If those trying to keep her from fulfilling her destiny have anything to do about it, that won't be long at all.
About the book
What is the book about?
Legacy Forgotten is about a young police detective who has spent her whole life pretending that she was absolutely normal when she always knew she was different. She is tossed into a whirlwind of lies and half truth's as she begins to discover who she really is and where her family really came from and is blown away when she realizes that not only is she different, she is responsible for righting a wrong committed by her family over sixteen hundred years ago.  A mistake that caused a change in power on this planet of apocalyptic proportions. Ailis  has to fix this before the earth is forced to yet again learn how to have faith in a new god.
When did you start writing the book?
I started writing Legacy Forgotten in 2006  in between calls while working as a call center representative.
How long did it take you to write it?
It actually took me over two years to write as I only wrote at work in between calls. I had no idea I would actually love it, (I usually just toss them as soon as they are out of my head), when it was finished.
Where did you get the idea from?
At around age nine, I became very interested in the tales of King Arthur and Morgan Le Fay. I loved the way magic was so alive in the legends and always lost myself entirely in the world of Merlin but always hated the way the legends ended. I was always left wondering why they were never given a chance to redeem themselves. So seven years ago, when I was working at a call center and had loads of time between calls, I decided I wanted to finish their story. My way. Legacy Forgotten is the first in a five part series called The Avalon Legacies. My way of fixing what I consider to be a great injustice.
Were there any parts of the book where you struggled?
Yes. I am a terrible proofreader and editor. I always seem to see what is supposed to be on the page and not really what is actually written there. I have had to depend on volunteer proofreaders and editors to get it to where it is today.
What came easily?
The story itself came rather easily. I had so much time between calls sometimes that I would just stare off into space and daydream as if I were watching a movie until I heard my phone beep.  Legacy Forgotten was born of a very long daydream.
Are your characters entirely fictitious or have you borrowed from real world people you know?
I don't really think any of my characters are completely fiction. If the character is a villan, chances are I have met that villan and hated him so much that I created a story just to punish him.  It's the same with my heroes. I usually end up adding personality traits that I find appealing.
We all know how important it is for writers to read. Are there any particular authors that have influenced how you write and, if so, how have they influenced you?
The first adult book I read was The Talisman by Stephen King and Peter Straub. I remember reading the blurb on the back of the book .
Jack Sawyer, twelve years old, sets out from Arcadia Beach, New Hampshire in a bid to save his mother, who is dying from cancer, by finding a crystal called "the Talisman."
Hello! I was seven and hooked immediately. These two made me know that I wanted to write but I never felt awesome about writing straight horror. So after many failed attempts I gave up at like 12. It wasn't until I read The Dark Series By Christine Feehan that the light bulb went off and I knew what I was supposed to be writing.  So I thank Stephen King and Peter Straub for helping me to find my calling and Christine Feehan for helping me find my genre.
Do you have a target reader?
Yes. You can't really enjoy my books if you hate all things paranormal but if there is a little thrill for the darkness down inside you, I'd give The Avalon Legacies a shot.
About Writing
Do you have a writing process? If so can you please describe it?
I guess it's a weird process considering the century we are in, but my English teacher always taught me to handwrite my first draft and to this day, I still handwrite the whole book before I start to type it up. I guess I can't get over the feel of my notebook in my hand as I create.  Other than that, I just sit down and write. Sometimes I remember what I write. Sometimes I have to go back and read it to see. The times I zone out and don't remember what I write are when I create my best material.
Do you outline? If so, do you do so extensively or just chapter headings and a couple of sentences?
Hate outlining. Never do it. I sit. I write beginning, middle, and end as if I were reading it. There are always spots  that just say she walked through the house and in parentheses it will say, "Describe rooms as she walked. Those I add when I type up.
Do you edit as you go or wait until you've finished?
My first I edited as I went which left me confused so this one, I will type all first and then go back and edit.  I will also make sure Auto Correct is off when I type it up. ;P
Did you hire a professional editor?
No. Between my mother and I, we have done this ourselves.
Do you listen to music while you write? If yes, what gets the fingers tapping?
Chopin and Beethoven. I love all music and listen all day but to write, I can't have words because I love to sing way too much and would never get any writing done.
About Publishing
Did you submit your work to Agents?
Sure did.
What made you decide to go Indie, whether self-publishing or with an indie publisher? Was it a particular event or a gradual process?
I submitted over and over again only to hear every rejection auto form response invented.  The day I found out that I did not need a publisher and that I could publish myself, I remember my Grandfathers voice sounding in my head.  "If you want something done right then you got to do it yourself." My mind was made up. I no longer wanted to succeed because someone else published me. I wanted to succeed because I published me.
Did you get your book cover professionally done or did you do it yourself?
I did it myself.
Do you have a marketing plan for the book or are you just winging it?
Plan? I have no plan. LOL I just try to make friends with everybody and host as many Indie Interviews on my blog as I can. I figure if people just go to my blog to discover new Indies, They will still see my stuff.
Any advice that you would like to give to other newbies considering becoming Indie authors?
Being an Indie Author is great. I have no deadline and can write when inspiration hits. Which I will tell you, has been way more frequent since I am not worried about a time limit. Also, I have always gotten great satisfaction when I do things all by myself as opposed to asking for help.
About You
Where did you grow up?
Lake City, Florida
Where do you live now?
I am still living in Lake City but will be Moving To Miami June 10th.
What would you like readers to know about you?
Oh. I don't know. I hate these questions as I never know what to write. I guess I'd like people to know that I am real with myself as well as everyone else. What you see, read and hear is pretty much what you get. I don't care about  "keeping up with the Joneses."  I need my family, my writing and my music and I'm good.  Oh yeah and I answer all of my correspondence myself. Sometimes it may take me a few days but it will always be me.
What are you working on now?
Legacy Foretold is the second installment in The Avalon Legacies Series. All the legacies are about the same immediate family and even though this book is about the daughters of the characters from book 1, they are still very much a huge part of this book as well.
End of Interview:
For more from Nicole, visit her website, follow her on twitter,  or like her facebook page.
Get your copy of Legacy Forgotten from Amazon US, Amazon UK, Barnes & Noble, or Smashwords.