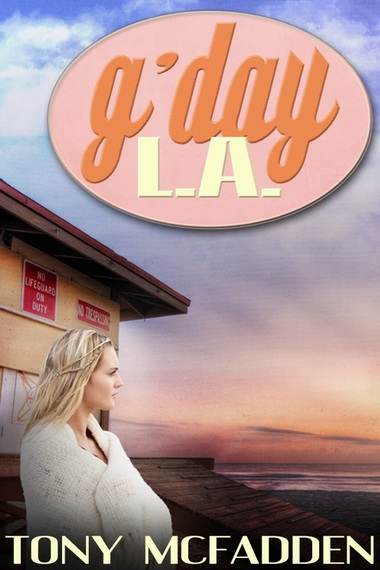 Don't be in such a hurry. EDIT … It takes longer to do a good edit job than it does to write the first draft.
Tony McFadden – 3 January 2013
The Back Flap
Can Ellie convince the police that her best friend's death wasn't suicide?
Or accidental?
Can she stay alive herself, now that the killer knows what Ellie knows?
And can she find a career in a city that cares more for what's on the outside than on the inside?
Aussie Ellie Bourke moved to LA a year ago to advance her acting career. She had no idea she'd have to solve a murder before finding success.
About the book
What is the book about?
A young Australian actress moves to LA to further her acting career. She'd had success in Australia, but like most Australian actors, she wanted the success found in the US. After a year of nothing but small parts and commercials she's ready to pack it in. Then her roommate (and best friend in the US) is found dead of a suspected suicide. She thinks it was something more and spends Act 2 and 3 trying to nail down the killer and convincing the police she's right.
When did you start writing the book?
Writing took place during November, 2010 (it was a NaNoWriMo project). The actual beginning of the book started in September, 2010 when I started plotting.
 How long did it take you to write it?
If you include the plotting through to the final edits prior to publication, it took seven months (September 2010 through to late April 2011). The first draft took November/December 2010.
 Where did you get the idea from?
I currently live in Australia, but I'd lived in LA for a year and everyone I ran in to was connected in one way or another to show business. One neighbor was a grip for The Wonder Years (and later, Independence Day), a guy I worked with was first aid officer of some sets, and it just seemed to be everywhere. The shallowness and fakeness was palpable (not so much the people, but the industry).
Here in Australia a local actress who has gone on to b-level fame in the US frequently covers for a morning drive-time radio show. Her self-deprecating attitude and general Aussie sensibilities were completely different from what I experienced in LA. The genesis of the book was putting someone like her in the middle of the plastic LA and seeing what happened. Since I'd already written some thrillers, all I needed to do was come up with a conflict and away I went.
Were there any parts of the book where you struggled?
September and October were spent plotting. A little bit of struggle there, but nothing serious. And once it was plotted, the writing is easy.
What came easily?
The first draft. It played out like a movie in my head. The hardest part was finding the time to write.
Are your characters entirely fictitious or have you borrowed from real world people you know?
Despite being inspired by a local actress, the characters are all fictitious. Honest. Except for the parts where Kevin Pollak, and Tom and Colin Hanks have cameos.
 We all know how important it is for writers to read. Are there any particular authors that have influenced how you write and, if so, how have they influenced you?
Lee Child for his structure and lean prose, James Patterson and Stephen King for their immense volume of work, David Baldacci for his ingenious plots and Dean Koontz just because.
 Do you have a target reader?
I've discovered that the demographic for thriller is fairly broad, teen males to 50+ females, so it's difficult to target by age. But my books are definitely aimed at the thriller and action/adventure reader.
About Writing
Do you have a writing process? If so can you please describe it?
I'm educated as an engineer and have practiced engineering for over twenty-five years now. I definitely have a process.
I start each book with a couple of months of plotting, followed by writing the first draft. This (the first draft) is written, usually, in the mornings from 4:00 – 6:00 am. When the first draft is finished, I wash it for the most obvious typos and send it out to half a dozen beta readers. I give them six weeks to come back with any plot holes. I put the book aside and start plotting the next one.
When I get the beta feedback, I start the editing process as well as start working on the cover. This book and its follow-up, "G'Day USA" have professionally made covers. The others I've created myself.
Once the editing is complete, I publish and start the first draft for the next one.
Do you outline? If so, do you do so extensively or just chapter headings and a couple of sentences?
Extensively. I'm plotting number 8 now (no title yet) and almost finished defining each act. Once that's finished I'll break it down scene by scene and not until that's finished will I start the first draft.
Do you edit as you go or wait until you've finished?
Once I've finished. Slows me down too much to do it on the fly.
Did you hire a professional editor?
I don't. That has hurt me in the past (as your review of another of my books, Book 'Em mentioned), but I can't afford the $800 to $1200 per book for line edits. The good news is that, just as my writing gets better with every book, so does my editing.
Do you listen to music while you write? If yes, what gets the fingers tapping?
I've discovered that when I'm listening to Zoe Keating, I am transported to a different place. I go into a trance-like state and the words flow. Sounds weird, but I can push through 2,000 words an hour when I'm writing the first draft if I've got her stuck in my ears. It works and I'm not going to change it.
About Publishing
Did you submit your work to Agents?
I used to, for a number of years. I was unsuccessful (obviously) and part of it – much of it – was due to the fact that I was ignorant of certain essentials to story telling at the time. Like story structure. Didn't have a clue.
What made you decide to go Indie, whether self-publishing or with an indie publisher? Was it a particular event or a gradual process?
As soon as I heard about Smashwords, I started the process. The very day. If I knew then what I know now, I would have waited for a few months, learned about story structure and re-written my first book. But that came eventually.
Did you get your book cover professionally done or did it you do it yourself?
This one was made by Syd Gill, as was the cover for the sequel. The other five covers (four published and one in the works) I did on my own. I think she's going to do the cover for number eight, though, since I don't have the foggiest idea what to do with it.
Do you have a marketing plan for the book or are you just winging it?
My biggest headache right now. Giveaways on Goodreads seem to work a little bit. KDP Select free days also seem to work, again, a little bit. After number 8 is out (June 2013) I'm going to put the writing on hold for 6 – 9 months and see if I can crack this nut.
Any advice that you would like to give to other newbies considering becoming Indie authors?
Don't be in such a hurry. EDIT. If you edit yourself (which most have to do) get some trusted honest friends to read it. And then edit it again. And again. And then again. It takes longer to do a good edit job than it does to write the first draft. I'd also say plot first, but some people don't, and that's fine. At least know how it's going to end before you start writing.
About You
Where did you grow up?
I was born in Nova Scotia, Canada. My father was in the Canadian Air Force, so I grew up all over Canada, moving every couple of years until I was twelve. Dad stopped in the Canadian prairies, with winter days frequently hitting -40F/C or colder. Didn't much like that.
Where do you live now?
Australia. Winter here is very similar to a Nova Scotian summer. I can deal with that.
What would you like readers to know about you?
I (and my wife) left Canada almost twenty years ago. Since then we've lived in various cities in the US (Miami, Ft. Lauderdale, Virginia, Atlanta, Southern California, St. Thomas in the USVI), Taipei, Kuala Lumpur, Singapore and now Australia. We've also travelled to Indonesia, Thailand, Hong Kong, New Zealand and China. All of the places I've seen and people I've met have provided me with fantastic setting and characters for my stories. All of my books can be found here.
What are you working on now?
A straight out thriller called Unprotected Sax. It follows an ex-Army Ranger, tired of fighting, who reconnects with his high-school music teacher and his jazz band in Miami. He's dusted off his saxophone and is learning how to relax again. Then the teacher/band leader disappears, the cops don't seem to care and the Russian mob is all over his ass.
The first draft is with beta readers and, technically, I'm actually potting the one for after that.
End of Interview
For more about Tony, visit his website, Goodreads page, and Amazon author page.
You can purchase your copy of G'Day L.A. from Amazon US (paper or eBook) or Amazon UK (paper or eBook).