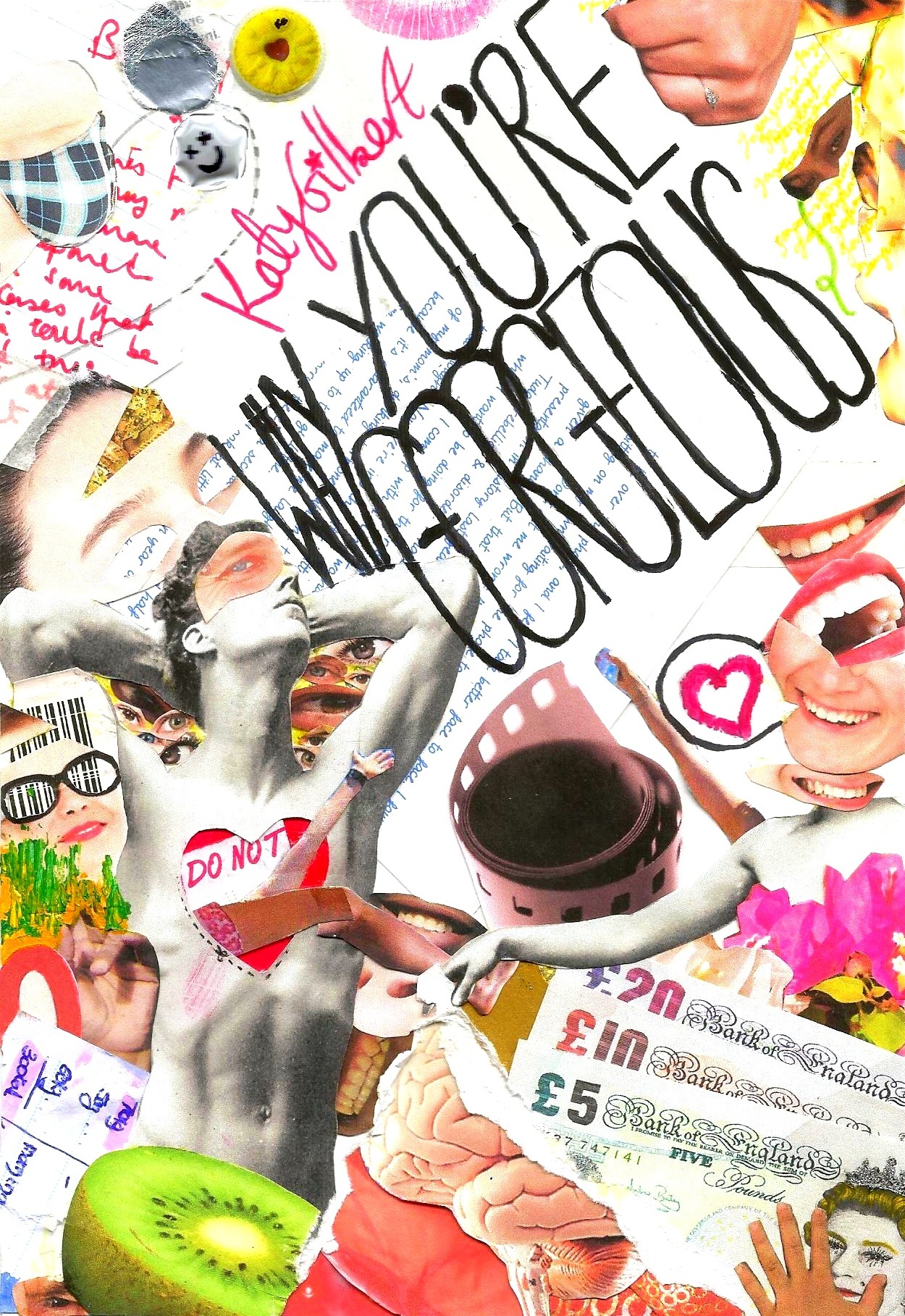 That said, we did get to the stage where it was 2am on print day and I was sitting looking at the final draft at titles that said things like 'witty heading' and notes like 'anecdote here'!
Katy Gilbert – 8 September 2012
The Back Flap
Have you ever felt less than utterly delectable?
Ever ruled out the possibility of wearing something that you loved (hello, leopard print Speedos) because you were afraid of what people might think? Have you ever considered chainsawing your thighs or diving into a cereal diet?
Are you concerned that you can't be manly if you wear pink? Have you ever been told that real women are all curvy, or that you need to 'erase' your wrinkles?
Confidence lacking? Not believing that you're exceptionally attractive?
You've come to the right place.
Welcome to the world of Why You're Gorgeous!
It's time to skip along the path to self-love. It's possible.
What are you waiting for, gorgeous?
About the book
What is the book about?
Why You're Gorgeous is a celebration of who you are: inside, outside, all over. A non-fiction 'real beauty' book, it challenges the boring and damaging mainstream perceptions of attractiveness that the mass media portrays and society accepts, igniting the opportunity for self-love and smacking down fashionable self-loathing! Why You're Gorgeous explains how and why the media and society can have such a negative effect on our body image and self-esteem, helps you kick self-hate to the curb and create your own confidence, and showcases the benefits of seizing back personality, individual style and who you are.
The book is in favour of body and soul. There's no attacking the lipstick lovers or criticising people who actually look in the mirror every few days! In our society there's a real suggestion that there's a divide between people when it comes to real beauty: you either embrace what's on the inside and don't give a damn about your appearance, or you're vain and shallow enough to care about how you look. That's so unbalanced, and completely unfair; I was never going to let Why You're Gorgeous take either of those lines. We're rounded humans, with dazzling personal qualities and gorgeous physical attributes! Therefore, both get celebrated as one – it's who we are.
Throughout the book readers will find quotes from real people who contributed through a form on my website. There's a nice cross section of varying ages, genders, sexualities, nationalities, beliefs and body types, so I'm delighted that we fulfilled the aim of creating a rounded perspective on what gorgeous really is.
The book is made up of talking, tips, quotes, illustrations and frank and fun anecdotes. It was really important to me that the book would be fun and humorous, because it would be so easy to preach your way through something like this and leave readers feeling like all the potential for enjoyment of life had been sucked away in 150 pages! The point I'm making throughout is that we can enjoy attractiveness – that it doesn't need to be dominated by self-hate, fear and dissatisfaction – so it would have been a really bad move to just get angry when I could be sharing my enthusiasm instead! People can laugh along with Why You're Gorgeous, learn something, get inspired to kick start their individuality and hopefully leave a hell of a lot more confident in themselves.
When did you start writing the book?
I began to write Why You're Gorgeous a long time before the release!  It was started about a year ago, and I was planning on releasing it in autumn 2011, but then I lost my website and had to devote my time to the redesign. I picked up Why You're Gorgeous in the spring this year, and after an intense few months here we are!
How long did it take you to write it?
In terms of time I actually spent writing, probably about five months. Including the time spent thinking 'God, I really need to get into that beauty book', maybe about twelve!
Where did you get the idea from?
I really felt like Why You're Gorgeous was something that I had to do. I was constantly witness to countless people of all variables hating who they were, being dissatisfied with their bodies and wanting to change themselves so that they could feel attractive. And yet, they were gorgeous. It made absolutely no sense, and I knew that I could at least try to make a difference. By showing people how the industry works I hope that they'll become aware that there isn't actually a hierarchy when it comes to being attractive – that's just what we're encouraged to think. I want to inspire people to tap into their uniqueness and express themselves, while feeling absolutely amazing – no matter what cliques, communities, societies or the media say. I want to see everyone unlock their potential!
Were there any parts of the book where you struggled?
There were times when it was difficult to keep ploughing through all  the work, but the importance to me of the book was enough to sustain me! That said, we did get to the stage where it was 2am on print day and I was sitting looking at the final draft at titles that said things like 'witty heading' and notes like 'anecdote here'! I make myself laugh, really, rather than despair, so it's OK. There were hours when it was a bit of a drag, but overall I've just enjoyed seeing the book take shape from a few ideas and illegible sentences jotted down on receipts. That's just one of the things I really love about writing.
What came easily?
The parts I felt angriest about! Haha, writing about the way that people are manipulated by the industry was fairly fast flowing because I feel so passionately about it. Equally, being lucky enough to have the quotes from the beautiful people who contributed made making the book more open and diverse a dream.
Are your characters entirely fictitious or have you borrowed from real world people you know?
I don't have any characters in this one, but I think that people will feel able to relate nevertheless! Most people have felt left out, less than confident or simply not exceptionally gorgeous at some point in their lives. That said, even if you do feel at the top of your game most of the time you can at least have a laugh along as you're reading (and be further inspired)! Self-love is treated as such a negative, egoistic thing – that's one of the issues that we have to smash through.
Do you have a target reader for this book?
Why You're Gorgeous really is for everyone. It covers such a wide range because everyone has the potential to be a gorgeous person, inside and out. There's no twenty-nine year shelf-life or supreme skin tone, 'ideal' thigh size or single 'perfect body'; beauty is subjective, and beauty is universal. Perfection blossoms when you're being yourself. Attractiveness is never presented as something that's just for you, but that's what Why You're Gorgeous is: recognising yourself as gorgeous because you deserve to – you'll rock it! That said, there is a section called How To Pull In One Easy Step. Loyal fans will be immediately aware that that isn't going to be anywhere near as horrific as it sounds, so don't worry!
How was writing this book different from what you'd experienced writing previous books?
This is the first non-fiction book I've written; as it turns out I think that the blogs and articles I've posted in the past set me up for this well!  This time I didn't crowd-fund; the only thing I asked followers for was their opinions, and that was a beautiful experience. The people who contributed were courageous and passionate about the cause, and I think that glows throughout the book. I also designed the cover this time, which was a lot of fun! I've done covers in the past but not for a book that I was getting printed, so it was lovely to see the finished piece as a physical work. Especially after all that cutting and sticking!
What new things did you learn about writing, publishing, and/or yourself while writing and preparing this book for publication?
I actually became better at stress-management through this, I liked to think: I eventually planned everything out on my Cliff Richard calendar and knew what I needed to do before I needed to do it – mostly! So, I think the one thing I learned about myself would be that no matter how well Cliff and I attempt to plan and prepare, I'll always end up finishing the final draft in the early hours on the day the book goes to print. C'est la vie!
End of Interview:
For more, visit Katy's website, her Tumblr page, or Goodreads author page.
Purchase a copy of Why You're Gorgeous from Katy's website.