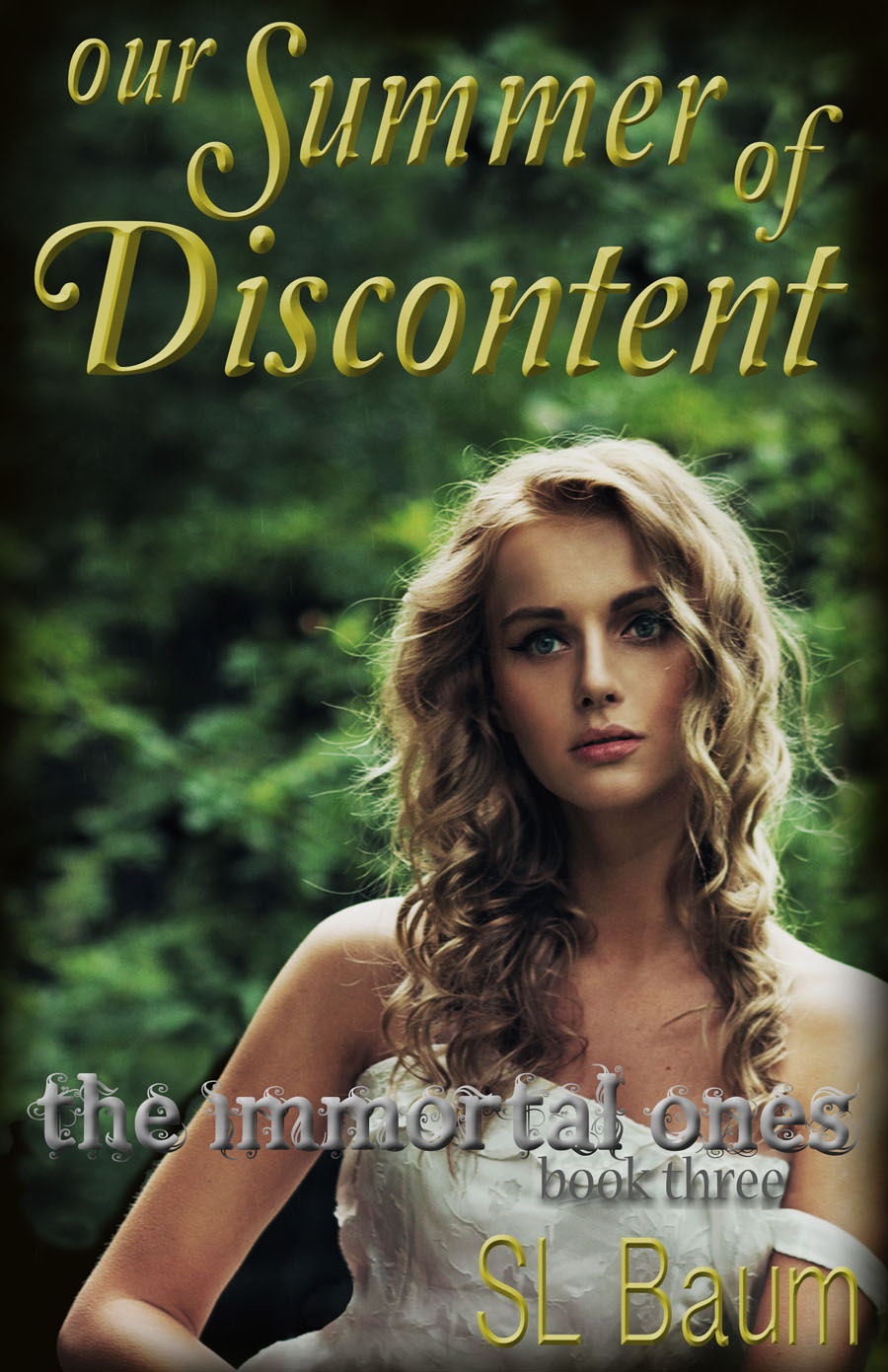 Don't put your book out there without letting several (and I mean more than two) people read and critique it. Cover art is very important to a book's success… look at other books in your target market. Thicken up your skin, you will be judged.
S.L. Baum – 1 September 2012
The Back Flap
Summer. A time for travel, relaxation, and above all – fun. But for Charity, her family, and her friends, this summer holds more in store than any of them anticipate.
While Charity learns to harness her newfound powers, others around her discover their own surprising abilities. And a vacation to New York becomes a catalyst that has their paths crossing with the unexpected, yet again.
Emotions run high as life-altering games taunt and test them all. Who will win and who will lose, during their Summer of Discontent?
About the book
What is the book about?
Our Summer of Discontent is a YA paranormal (with romance) and it is the third full length novel in The Immortal Ones series. It starts a few months after where we left off in Book Two and follows Charity, Lincoln, and the gang through part of their summer. They get a little trip to New York with a lot of unexpected twists and turns.
When did you start writing the book?
I started the book in the fall of 2011…
 How long did it take you to write it?
Well… it's taken longer for this one than any of my others because I consistently had to put it to the side. After a house fire in 2011 that took a year to rebuild (the house was taken down to the concrete slab)… writing had to take the slow train to completion.
 Where did you get the idea from?
The idea for the series came to me when I started another project. I had a character named Charity in it and I imagined her having a favorite book with a main character that had the same name as her. The more I thought about this other book (within a book), the more it came to life in my head and I simply had to shove the other project away from me and write A Chance for Charity. When that one was finished I started to dream ideas for My Link in Time and when that one was finished little snippets of Our Summer of Discontent started to invade my thoughts.
Were there any parts of the book where you struggled?
I struggled with myself over the need to let all the characters have a voice in this book. Pay attention to the name at the start of most chapters… because that's who is doing the thinking and the talking.
What came easily?
Chapter One literally poured out of me. I had that part done for weeks before I was able to plant myself in front of my computer again and write what came next.
Are your characters entirely fictitious or have you borrowed from real world people you know?
My characters are fictitious (because, hey – they're supernatural) and I didn't really take character traits from anybody in particular, they came to life on their own. But there are names of loved ones, friends, and readers, sprinkled throughout the series. Charity's eating habits (in Book One) are mine; she has my likes and dislikes of food.
 We all know how important it is for writers to read. Are there any particular authors that have influenced how you write and, if so, how have they influenced you?
I wouldn't say my writing style is influenced by any particular writer. I enjoy reading YA novels. I like their simple and straight forward approach to unfolding the story for readers. I read for entertainment and enjoyment. For the most part I am not looking for something to give me greater meaning in life or solve some problem I didn't know I had or expose the injustices in the world. I just want to lose myself in a story for a while. So I hope that my writing lets readers dive into that world of make-believe for a little while and leave the real world behind.
 Do you have a target reader?
I target the readers who enjoy YA paranormal. I have heard from readers aged ten to seventy(something) that have told me they enjoyed reading my novels… so they are written for every age group. The majority of my readers are women (by a huge margin) but I also have some male readers… so **a huge shout out** to the men who read my novels J.
About Writing
Do you have a writing process? If so can you please describe it?
I used to sit at the home computer, in my master bedroom, with my back to everybody and my face to the screen in the corner (before our fire). When I wrote Of Fire and Brimstone (Elizabeth's Novella), it was also in a stationary spot at our rental house. I finally got a laptop for Christmas last year and now I am able to write wherever I want in the house. Yippie!
If I get ideas when I am not near a computer I will jot them down on notepads. I wake up from dreams with the need to write stuff down and curse myself when I don't do it right away. I open separate files on the computer just to write random sentences and will figure out later where they fit in the story.
But I find that I write the best in a dark quiet house with my family all asleep in their beds. Sometimes I just wait for that moment to begin.
Do you outline? If so, do you do so extensively or just chapter headings and a couple of sentences?
Other than my random note taking… I do not outline. I let the story unfold as I am writing.
Do you edit as you go or wait until you've finished?
I go through a constant process of WRITE – PRINT – REVISE – EDIT – REPEAT from the first chapter to the last chapter. I edit all the way through. I think that cleaning up the previous section helps me tackle the next section.
Did you hire a professional editor?
I use a team of beta readers… first local ones… and then I revise and edit… and then I pass it on to another group of beta readers (people I have never met in person – but through internet boards – and they are invaluable to me) for a final run through. Then I revise and edit some more.
Do you listen to music while you write? If yes, what gets the fingers tapping?
Yes and No… depends on the day and the time of day… my tastes are varied from 80's pop to Alternative rock. I like to mentions songs in my writing, sometimes hidden in a sentence or a chapter heading. But sometimes they are mentioned by name and the characters are listening to them with me!
About Publishing
Did you submit your work to Agents?
I never did. When I heard about Direct Publishing through Kindle (and then soon after through several other distributers) I knew that was the way I wanted to go.
What made you decide to go Indie? Was it a particular event or a gradual process?
A Chance for Charity sat on my computer for a year after I finished it. I wasn't sure what I wanted to do. I started researching the whole agent publisher thing and was about to print off some copies of the first chapters and get a cover letter together when I saw the Kindle Direct Publishing tab on my computer screen when I was shopping on Amazon one day. My husband had been reading on his Kindle for a few months and absolutely loving it so I just knew that it was the way to go. I am soooo happy that I chose to go indie!
Did you get your book cover professionally done or did it you do it yourself?
I do the covers myself. I have always been pretty good with Photoshop. I find the artwork at a stock photo website and then get to work. I'm very pleased with the overall look of the series. I did a whole make-over in March of this year and I love it.
Do you have a marketing plan for the book or are you just winging it?
This book is flying away on its own. After dealing with a rebuild for over a year I am exhausted and decided to just let this one go and see what it does. I've just been using my Facebook and twitter pages to announce its arrival.
Any advice that you would like to give to other newbies considering becoming Indie authors?
Don't put your book out there without letting several (and I mean more than two) people read and critique it. Cover art is very important to a book's success… look at other books in your target market. Thicken up your skin, you will be judged.
About You
Where did you grow up?
Largely in Arizona but I was a military brat in elementary school and lived in Illinois (for the first four months of my life) – then Tucson, AZ – then Plattsburgh, NY – then back to Tucson, AZ – then up to the suburbs of Phoenix, AZ (by 5th grade) where I have been ever since. I went to a different school for 2nd, 3rd, 4th, and 5th grades… blech! After that, I guilted my parents into staying in the same area for the rest of my schooling.
Where do you live now?
Still in AZ and I love it. I love the heat. I love being in the cold air-conditioning of a store and then walking out into the blasting furnace during the summer. I am a complete weirdo (I know). I don't want to stay in that furnace for long… but it's nice for a few minutes. But the winters are amazing. I wear flip flops all year long… and I can drive for 90 minutes and be in the snow (if I really want to).
What would you like readers to know about you?
Taken straight from my website:
I have had a love of sci-fi since I was a kid… watching Star Trek with my father.  I am such a junky for action packed sci-fi movies to this day… thanks Dad!  That love started to include the supernatural/paranormal as I reached my teens.  I will always thank Anne Rice and Lestat for introducing me to a whole new genre… and my love for paranormal fiction was born.  When I began writing, I didn't consider the YA paranormal genre.  I started two previous projects that I couldn't finish, and I never knew why.  But, when I started to write – A Chance for Charity (The Immortal Ones) – the story poured out of me and I loved every minute of the writing process!  I still have those other stories, and someday I plan to go back and finish them.
I am a crafter by nature!  This probably also explains my love of writing – it is in the creative family.  I scrapbook, sew, bead, etc… I love to create.  I have a room in my home dedicated to crafts.  Paper, ribbons, stickers, die-cuts, there is whole mess of supplies!  At one time I was in the handcrafted wedding/party invitation business.  You should see my kiddos' birthday invitations!
My other love is baking, although I don't do a ton of it.  Because if I bake it, then I want to eat it!  Cookie creation is a fun process.  I like to see how many yummy ingredients I can cram into a recipe.  So far, my favorite cookie is an oatmeal, coconut, chocolate chip, toffee bit cookie – YUM! I will totally email you that recipe 😀
On top of writer, crafter, baker… I am wife and mother – the latter being the best job in the world!
What are you working on now?
I've gone back to a project that was started last fall, but I was only able to finish two chapters before I told myself to concentrate on Our Summer of Discontent. I'll it is also YA, but I'm not quite sure of the genre right now. We'll see where it goes.
When that is finished I will start work on The Eve of Destruction (The Immortal Ones – Book Four)!
End of Interview:
For more from  S.L. Baum, visit her website or blog. You can also follow her on twitter or like her Facebook page.
Get your copy of Our Summer of Discontent (The Immortal Ones – Book Three) from Amazon US, Amazon UK, Barnes & Noble, or Smashwords.