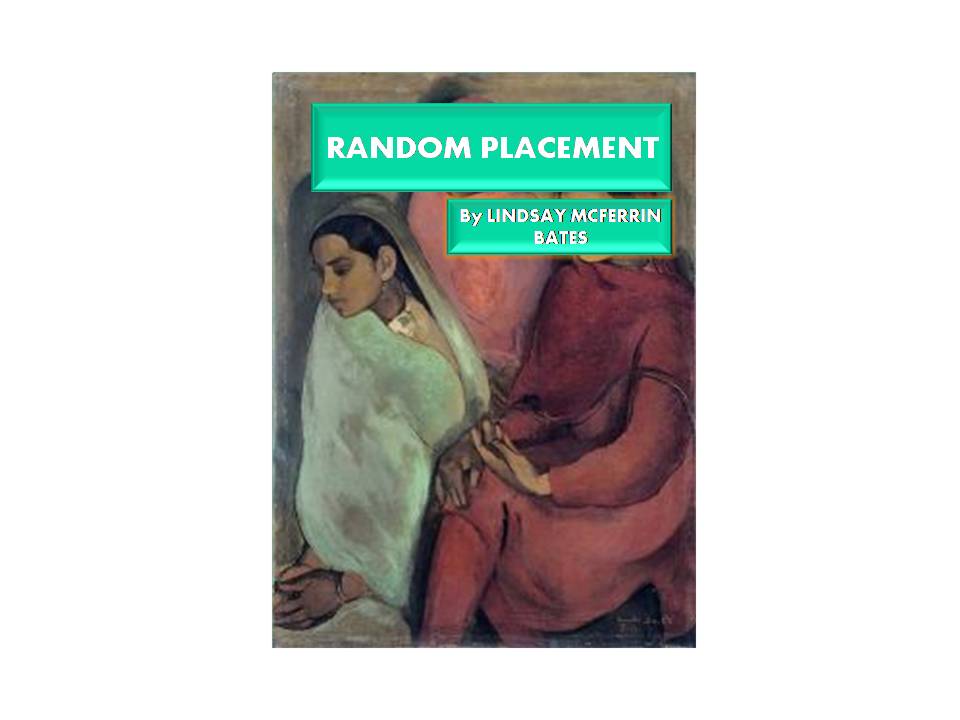 I admired the writers I read about who did it all themselves, and when I concluded the whole agent route was "a scream into the void," I became excited to see if I could manage it all myself.
Lindsay McFerrin Bates 2 August 2012
The Back Flap
Just as she reaches the end of her financial and emotional rope, 1.5 million dollars lands in Holly Sullivan's checking account. The young widow doesn't know it yet, but her life is being transformed by an event fifty years ago and a world away: The 1963 illegal Jogini "dedication" of an Untouchable girl in rural India.
After beginning a new life in Maine, Holly has mixed feelings about the money and takes steps to find her anonymous benefactor. Sam, a British businessman, is utterly driven by a plan formed long before he knew Holly existed. He agrees to meet with Holly but surprises her with his refusal to discuss the money until he has told her his "long story." Holly's curiosity leads her and her son on a luxurious trip to London and Hyderabad, as Sam gradually reveals his plan, the evils of the Jogini system and his startling motive. In a surprising twist, the life of yet another stranger is transformed.
About the book
What is the book about?
The book is about how an event in 1963 in rural India, affecting a young Untouchable girl, transforms the life of another woman—a complete stranger—fifty years later in New York City. The New York woman, Holly, is a recent widow and a mother at the absolute end of her financial and emotional rope, when a fortune lands anonymously in her checking account. The book is what I'd call a contemporary jet-set love story that weaves together the lives of a modern-day couple with the life of the little girl whose life was shattered by an illegal, secretive ceremony that dedicates poor, low-caste girls in India as "Joginis." The Jogini culture is not well-known, but it is unfortunately very real.
When did you start writing the book?
I began formulating the book and doing research early in 2008.
How long did it take you to write it?
The research and writing took four and a half years. I kept my research current even as I was finishing up the book this year.
Where did you get the idea from?
 I've always been drawn to novels about India and the caste system, how caste can affect every facet of a person's life. One day I stumbled on an article about the Jogini dedication ceremonies and how they impact the lives of the very poorest and most helpless girls in rural India. This is a human rights abuse that uses the guise of a religious ceremony to turn girls into sex slaves.
Were there any parts of the book where you struggled?
Well, this was my first novel, so I would say there was a learning curve for me to find the best way to express the ideas I wanted and needed to express, while maintaining the reader's interest and not having anything sound like a lecture. This was especially true of the information about the Jogini culture. I tried to accomplish that goal through dialogue from Sam, the benefactor/hero who gave Holly the money.
What came easily?
The description of London in the 1960s. I was an Air Force Brat, and moved with my family to London for three years during that period. I can't think of a better time to have lived there! What also came easily to me were the courtroom and other law-related scenes, because I've been a lawyer for almost 35 years and have tried many cases.
Are your characters entirely fictitious or have you borrowed from real world people you know?
One character is entirely real, just renamed: The Giant Alaskan Malamute dog, Ivan, is based on my own dog—a Giant Malamute named Mohi– in every way. Otherwise, the characters are fictitious, although I did draw on my own experience, fears and worries as a Mom when I wrote Holly.
We all know how important it is for writers to read. Are there any particular authors that have influenced how you write and, if so, how have they influenced you?
I've been crazy about reading since I was small, and I read constantly, plus my undergraduate degree is in English, so literature has been a huge part of my life. Even so, I can't put my finger on any particular author who has influenced my writing style.
Do you have a target reader?
I believe the book will appeal most to women, although I was pleased to receive a wonderful five-star review from a mature male reviewer on Goodreads! The story has a gentle, poetic romance at its heart. I think readers who want to learn about something entirely apart from their own experience—like the Jogini culture—but who appreciate a bit of fairytale romance will find the book appealing. One of the youngest readers I know of so far is my early-20s niece.
About Writing
Do you have a writing process? If so can you please describe it?
My writing begins with in-depth research before I put any part of the story on paper. That's the only way I can write. I want places and things to be described accurately, in minute detail, right down to the kind of china a particular hotel uses, the way a woman would have dressed in a certain decade, or the street layout and architecture in a real town, what it is like to be inside a private jet. I use Google Images quite a bit to help me envision places and things. That was how it was with Random Placement.I began formulating a story and characters in my head, but because the plot is centered around the Jogini culture, I researched that, and the caste system, like crazy, creating Word documents of my research, before beginning to construct the book itself.
 Do you outline? If so, do you do so extensively or just chapter headings and a couple of sentences?  
No, I don't do a lot of outlining, except for important dates, such as when each character was born and important dates in the lives of the characters, so those all fit properly when the story comes together.
Do you edit as you go or wait until you've finished?
I edit as I go, and then I edit again and again after the story seems to be finished. I read somewhere that when you write, you must read your own work over and over so often that your eyeballs bleed. It's true!
 Did you hire a professional editor?
No, for better or worse, I did it myself.
Do you listen to music while you write? If yes, what gets the fingers tapping?
The music I like best when writing is New Age-y, Zen-like music, such as you'd hear in a spa.
About Publishing
Did you submit your work to Agents?
 I did submit to a few agents, and I had some back-and-forth communication with the first agent whom I queried, but I soon found that what I had read so often was true: There is so much noise and clamor and competition for attention at the agencies, that I think it's an exceedingly rare thing, kind of like winning "American Idol," for a deserving work to get the attention of a good agent. That's unfortunate.
What made you decide to go Indie? Was it a particular event or a gradual process?
I had considered it from the time I first started educating myself on the whole publishing process. I admired the writers I read about who did it all themselves, and when I concluded the whole agent route was "a scream into the void," I became excited to see if I could manage it all myself.
Did you get your book cover professionally done or did it you do it yourself?
I did it myself using art in the public domain from Google Images and Power Point. It took me awhile; creating art on a computer wasn't something I was familiar with at all. In fact, my cover art is a little smaller than the covers of other books where mine is sold, and I don't know how to fix it—so I'm still not completely up to speed on the art part!
Do you have a marketing plan for the book or are you just winging it?
I'm a somewhat private person, so I've never participated much in social media (at least not under my real name!) I have spent time on sites that discuss book promotion and I have followed sophisticated sites like yours that discuss indie books. That's my long-winded way of saying "I'm winging it."
Any advice that you would like to give to other newbies considering becoming Indie authors?
If you have characters and a story idea that drive you, don't doubt yourself or your abilities; go ahead and begin creating! Just don't skimp on your research. I think readers are smart, and they like to see the work that went into making a story factually accurate. For me, the self-publishing process was fun and gave me a sense of accomplishment.
About You
I'm a semi-retired trial lawyer living in Kansas with my husband, son and our Giant Alaskan Malamute. He came with the house (that's another story). I must be a geek, because I love to do research; I will sit for hours until things go numb before I will look up from my screen. Reading and thrift-store shopping are two of my great interests. I enjoyed writing my first novel so much, I've written a couple of shorts and plan to keep on writing!
Where did you grow up?
My beloved Dad, a decorated WWII B-24 combat navigator, was a career Air Force officer while I was growing up, so I have lived on both coasts, in the Midwest, and in London and Japan.
Where do you live now?
I live in Kansas, which many people don't realize is a highly-civilized place that has the likes of Tiffany & Co. as well as cattle.
What would you like readers to know about you?
In addition to the personal information just mentioned above, I'd like to say that I absolutely loved writing my novel, and it is a real thrill for me each time I hear that someone read and enjoyed what I wrote.
What are you working on now?
I'm working on a teen novel tentatively titled Ex Voto Vampire. I'm also exploring Steampunk, a genre new to me, by reading up on Victorian scientific beliefs in a specific sector. I've even saved some Google Images for the Steampunk project!
Thanks very much for giving me the opportunity to talk to you and your readers today.
End of Interview:
Get your copy of Random Placement from Amazon US, Amazon UK, or Barnes and Noble.