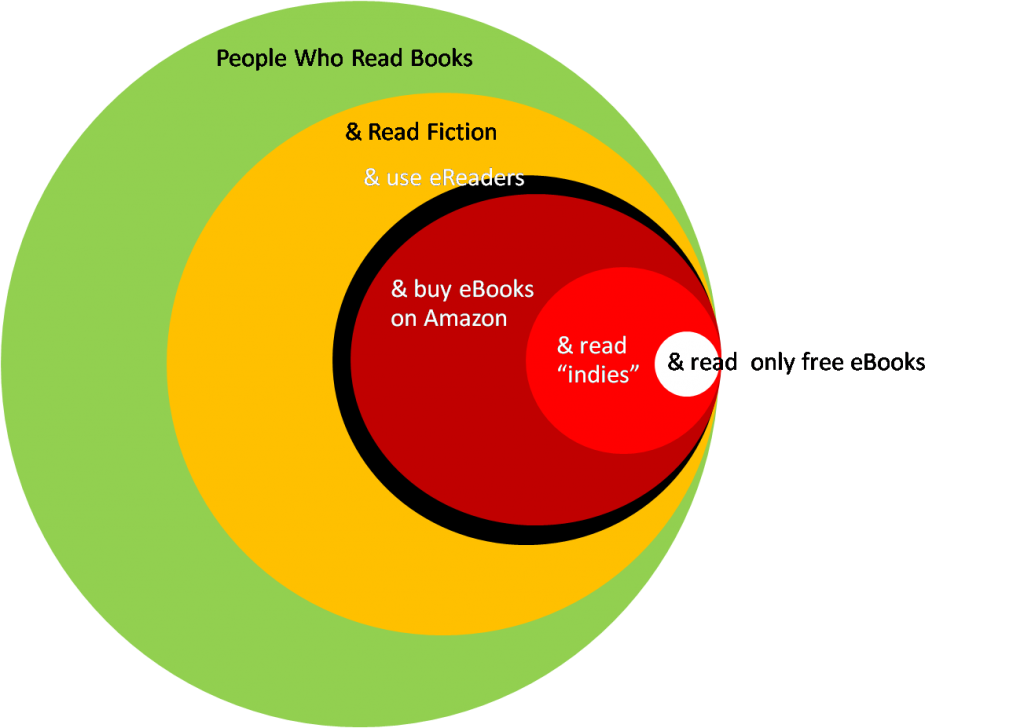 The Amazon Kindle Select Effect
Every day hundreds of thousands of books are being given away free on Amazon. This is a fact. And the number is growing. Why? Why are authors, and in a few cases publishers, rushing to give their books away free?
Because it works.
For most indie authors the primary goal is to make enough money selling books to quit the day job and focus on writing full-time. A few have achieved this goal – you know who you are; and quite a few make a nice tidy addition to the family's monthly budget.
Before December 2011 came along – the collective wisdom had declared; write a good book, get a good cover, pay for editing, write lots, upload, and get lucky. And many have. Many more were working on this mantra and secretly, "self-assured" of being entitled to a bit of luck.
Then on the 12 August 2011, Amazon announced KDP Select. Big Six stayed out. There was noise from various aggregators about "unfair competition", "monopoly", the end of the world, and conspiracy theories about evil empire abounded – all of which Amazon ignored and went on with dominating the book industry. Playing catch-up is a tiring game, especially when the last time you saw your competitor was when he was on top of the mountain, that you're still at the bottom of, smiling at you.
It took a little while for indies to catch on – about a month. The exclusive thing caused many to balk, but gradually by the end of December there were one hundred thousand books in the program.
Then indies starting using their free promotion days. Sites supporting the free ebook rush helped draw significant traffic to books that were free as a result of KDP Select, free promotion days. Extra visibility granted by Amazon black box algorithms operating to whoknowswhat metrics; then propelled those books forward to higher visibility.
What does higher visibility mean? According to www.compete.com in January 2012 Amazon had 88,422,954 unique visitors to its US site; an average of 2,852,353.35 per day.
To put that figure in perspective, 20,000 downloads is enough to get you into top 100 free all ebooks on Amazon. Granted, only a percentage of the visitors to Amazon's US website are there to buy books; others are shopping for other stuff.  But even if you said that only 30% were there for books (and given the number of Kindles there are in whatever format, not to mention other devices which visit Amazon, you'd reckon that was a conservative estimate) that's still  855,706.01 unique visitors per day.
Following this? Okay cool. So let's cut that number by half to eliminate those who only buy dtb;  and we're left with 427,853. Then, just for the hell of it, say that only 30% of those with eReaders, who shop on Amazon, will buy indies.
Leaves us with a market of about 128,355.90 in the US – daily. Yes.
So that's the volume. What sort of choice does the  427,853 have? (This is according to my view of Amazon, and yours may be different).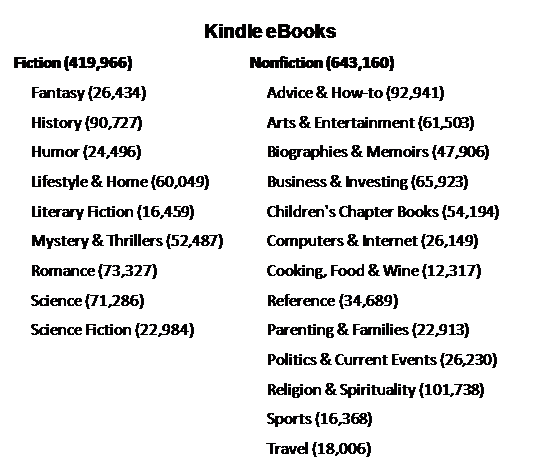 Some of the above categories may overlap. e.g. a novel about baseball may be in Sports as well; but roughly speaking, for fiction, there are 420 thousand choices.
How many books can you hope to write and/or read in your life? Whatever number your herculean effort drives you too; (for writers aged 45+, let's say you've got another 45 and you write till the day your fingers stop moving; 90? maybe super prolific output 135, 500 (if you write short) books?) – it still is a super small percentage of the total number of books available.
And let's say you read a lot. Four books a week – that's 9,360 books for the rest of your life – assuming they pry the Kindle out of your fingers. Even a book a day only takes you to 20,000 – still a super small percentage of the total number of books available. In ten days or less you could collect enough reading material to last your natural life – free. Phew, that's a money saver isn't it. Bet you're glad you read this post.
Giving away 20,000 or 30,000 books (per book) leaves 95,000, give or take, who didn't get your book free – daily.
The challenge as always is to rise above the 420,000 other choices an right now KDP Select is about the best way for an indie author to do that.
Will all these free books stop people from paying for books? Unless ALL books are made free every day then the answer is – NO. Why? Because on any given day you're only reaching a tiny fraction of the overall visitors.
Apart from increasing visibility of some indie authors, what else is the KDP Select Program doing to the book market? It is pulling content into Amazon and making that content only available at Amazon. The reason this is happening is because other eBook publishers, with the exception of Kobo (perhaps, although their sign up program is still in the Dark Ages), are stagnant in their approach to the market. Most indie authors are active in keeping an eye on the market. Seeing low sales while watching and hearing about success stories in Select. There's only one way that goes.
Thoughts.