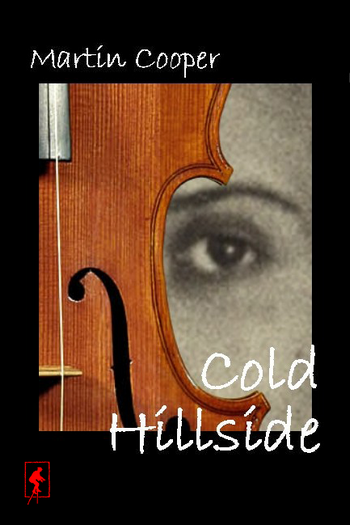 "I steal people's physical characteristics, and the stories they tell me. One or two have recognized themselves, but mostly they get worked and re-worked until they come out as someone completely different. I think."

Martin Cooper 13 December 2011
The Back Flap
When it turns out your brother was a bastard, do you still love him? Unfortunately, yes.
Simon Coltraine is a professional songwriter and musician. His brother Giles – market trader, rogue and amiable bully – is a small-time crook. When Giles is killed in what appears to be a car accident Simon returns to their childhood home to confront his memories, and soon finds himself drawn into his brother's schemes.
Cold Hillside links the sunlit sweep of England's West Country landscapes with the grubby shadows of London's Kentish Town Road.
The Devil has all the best tunes.
About the Book
 What is the book about?
The McGuffin is people trafficking, but the core of the book is the relationship between the two brothers. One is a good guy (relatively), the other definitely not. One of them is dead, which complicates matters.
 When did you start writing the book?  How long did it take you to write it?
First words went on paper in 1999. It took eight to ten years, one way or another, but with lots of gaps and false starts.
Where did you get the idea from?
I was invited to a neighbour's wedding – a bit grander that I'm used to, with dinner jackets (er… tuxedos?) and a marquee. There were a few minor political types there, in particular one familiar face and his wife who spent the whole evening dancing the hokey cokey with a gang of kids, having a great time. I'll vote for him if I ever get the chance. I went home and jotted down a page or two. When I came across what I'd written a couple of years later I started thinking (as you do): "Who are these people, and who's describing them…" etc. etc. It grew from there.
Were there any parts of the book where you struggled?
The framework of the book is a crime story and stitching together the thriller elements was quite hard work. Thrillers are so improbable. I think it worked out well in the end, though.
What came easily?
The descriptive, atmospheric passages. There's a lot of landscape (it's set partly in the west of England) and a good deal of sadness. There's also a lot of music, which was fun – backstage during gigs, recording and so on. The main character is a musician and he puts a lot of himself into his songs – that was very satisfying to do.
Are your characters entirely fictitious or have you borrowed from real world people you know?
I steal people's physical characteristics, and the stories they tell me. One or two have recognized themselves, but mostly they get worked and re-worked until they come out as someone completely different. I think.
 We all know how important it is for writers to read. Are there any particular authors that have influenced how you write and, if so, how have they influenced you?
Dick Francis, definitely. I made mine a first person narrative because I loved the way his main characters drove the stories along. John le Carre. There's a sort of melancholy fatalism about his novels – you know things are going to turn out badly. I love that. Doris Lessing. She's fantastic on London – really gets under the skin of the place. She's also the only writer I can think of whose characters age convincingly.
Do you have a target reader?
Well… Me, I suppose.
About Writing
Do you have a writing process? If so can you please describe it?
They only way I can get anything done is to get up at 5am and put in a couple of hours before it's time to walk the dog and leave for the day job. I write very slowly – 300 words a session is good progress – but when things are going well it really sets you up for the day. You do tend to fall asleep at about 4pm, though.
Do you outline? If so, do you do so extensively or just Chapter headings and a couple of sentences?
No. Part of the fun is finding out what the characters are going to do. I do write the beginning and the end first, so that the thing has some sort of direction. I also build a time line as I go, to make sure everything fits together, and I keep a daily log about what I've done and why, with notes about where it may lead.
Do you edit as you go or wait until you've finished?
Both. I edit constantly and do lots of cutting and re-writing when I've "finished".
Did you hire a professional editor?
No. I'm a reasonable copy editor myself, having worked in broadcasting for years. As for the rest – I think the most important thing a writer has to learn is an instinct for what doesn't work. There's no substitute for that. And I can't afford to pay a professional.
Do you listen to music while you write? If yes, what gets the fingers tapping?
No, but there's a lot of music behind the writing. Show of Hands, Jethro Tull, Billie Holiday, Joni Mitchell… There are some examples on the Cold Hillside Facebook page.
About Publishing
Did you submit your work to Agents?
God, yes. Three of them went to the trouble of asking to see the whole thing and giving it to readers. Nothing came of it, but their comments were very helpful.
What made you decide to go Indie? Was it a particular event or a gradual process?
I got interested in the technical side. The book didn't seem to be going anywhere, so I made Kindle, .epub and .pdf versions and put them on my website. In 18 months I got about 10,000 downloads (whatever that means – some people will download anything if it's free). Then some shit stole it and started selling it on Amazon. After I'd got him booted off I thought I'd better put my own version on sale in self defence.
Did you get your book cover professionally done or did it you do it yourself?
All my own work. I'm still pleased with the images, but if I were to do it again I'd use a bolder font.
Do you have a marketing plan for the book or are you just winging it?
Winging it, all the way.
Any advice that you would like to give to other newbies considering becoming Indie authors?
Go for it. But write for the experience of writing – you won't be a best seller. On the other hand, if your book touches the lives of 20 strangers, that will be a triumph. How many people manage that?
What are you working on now?
A collection of short stories will be out at the end of November – it's called Dandelion Sky. Another novel is on the way – not crime this time, but a fair amount of politics – but that's at least a year off. Probably two.
End of interview
You can buy Cold Hillside at Amazon.com, Amazon.co.uk, Amazon.de, Amazon.fr, iTunes, Barnes & Noble and Sony.
You can find Martin here, at theIndieView and at his own website, here.