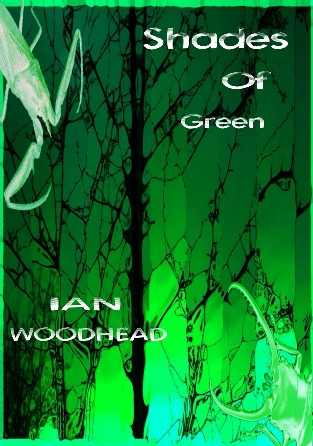 "As for influences, I think James Herbert and Steve Harris are the main ones but I'm sure that works of Stephen king, Guy N Smith, Philip K Dick and Clive Barker will have helped shape my subconscious writing too. Saying that, I think that now I'm reaching a point where I can see my own style emerging. A few reviewers have commented upon this, I find that a little odd, as I didn't really think I had a style." Ian Woodhead 14January 2011
The Back Flap
Holburn was just like any other northern English town, at least on the surface. Buried below the local woodland, something of ancient evil had begun to tunnel up…
Within hours, Holburn suffered a drastic transformation as invasive, bizarre plant-life infest the town, the population and wildlife transform into rampaging, blood-thirsty beasts.
A handful of survivor's battle to stay alive and search for answers.
About the Book
What is the book about?
The story concerns a group of teenagers who find themselves fighting for survival when their town becomes overrun with bizarre, invasive plant-life, if that wasn't bad enough, everyone they know transform into creatures with carnivorous appetites.
When did you start writing the book?
To be honest, I'm not sure round about 2008, I think.
How long did it take you to write?
Off and on, mainly off, two and half years.
Where did you get the idea from?
Can you believe that I've never been asked this before? Now, how can I explain the idea without giving the plot away? Okay right. Do you remember when Climate change used to be called global warming? Well, I wondered if a non-human race had reached the point where their planet was basically screwed. If they were advanced enough, more than us anyway. Then perhaps they could build a machine that just scrubbed the poisons out of the planet at a genetic level.
Of course, an alien planet's atmosphere wouldn't be the same as ours, so if this machine ended up on Earth AND was activated, imagine what would happen? Well, it did sound a bit far fetched, so I invented some pre-human sentient reptilian civilization existing on Earth a few million years ago.
Were there any parts of the book where you struggled?
(Laugh) Yeah, all of it! Well, maybe not all of it. There were times when I flew through prose, but I think, that was down to how I was feeling at the time. I think the only part where I really struggled was when I was reaching the climax of the story, Those ends refused to be tied, no matter what I did.
What came easily?
All the pet-shop scenes, I really enjoyed those and the first few thousand words.
Are your characters entirely fictitious or have you borrowed from real world people you know?
A bit of both, I think. The petshop owner does share a few of my traits, I suppose. To be honest, I think most of my characters have been influenced by real world characters in some way.
We all know how important it is for writers to read. Are there any particular authors that have influenced how you write and, if so, how have they influenced you?
I was a reader long before I started to write. The authors I've read are varied and many. As for influences, I think James Herbert and Steve Harris are the main ones but I'm sure that works of Stephen king, Guy N Smith, Philip K Dick and Clive Barker will have helped shape my subconscious writing too. Saying that, I think that now I'm reaching a point where I can see my own style emerging. A few reviewers have commented upon this, I find that a little odd, as I didn't really think I had a style.
Do you have a target reader?
Hmm, A million Ian Woodheads! Anyone who appreciates a decent horror yarn who doesn't expect high brow literature.
Do you outline?
Yes and no. I start off a story writing in first draft using pen and notepad. Once I get a few 1000k into it, then I outline so I don't become tangled up.
Do you edit as you go or wait until you've finished?
Well once the outline is finished, I then start on a first draft, still using pen and paper. When I transcribe that into Word, I'll edit as I go, but I still go through the MS a few times at the end.
Did you hire a professional editor?
Not yet but I'm looking into this option for my next story.
Do you listen to music while you write?
Again, yes and no. it depends on my mood. As for what I do listen to, everything from ABBA to extreme black metal.
Did you submit your work to agents?
Simple answer, no.
What made you decide to go Indie?
The ball started to roll, when one day I received an email from a publisher asking me what my small press profile was. Well, I didn't have one. It was suggested that I have a go at writing a few short stories and submit them to a few anthologies, apparently it's easier to get shorts accepted. Well, halfway through my third story, I discovered Smashwords. I thought the site was a brilliant way of getting my work out there, like an online CV. Then I discovered Amazon's Digital text Platform and the rest is history.
Did you get your book professionally done?
My wife created the cover for Shades of Green.
Do you have a marketing plan?
Not really, no. I'm still learning. I've joined a few messages boards and I've advertised the book on Facebook and goodreads but …. Well, I'm winging it.
Any advice to give to newbies considering becoming Indie Authors?
Yeah, before you publish your story, have a few folk look at it first. Folk who aren't afraid to give you a honest opinion. Remember, you are offering a product. If folk don't like it, THEY WILL COMPLAIN!
What are you working on?
My next novel is called Third Sight – It's about this demonic being who can only grow and breed by feeding off the energy of one individual. It feeds by killing off everyone this poor sucker has ever known and loved AND it makes him watch.
After that will come Mirrored Blade – That's about a knife that fell into the realm of the dead and can now strip the soul out of you. I have another two novels to release this year plus a few more short stories!
End of Interview
You can buy Shades of Green here
.