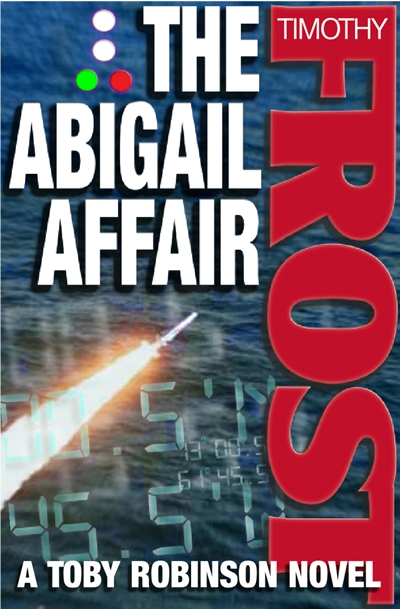 I've got a few thousand sea miles under my belt, all in and around the South China Sea, which is why a friend of mine recommended, 'The Abigail Affair'. So I trundled off to Amazon, paid the ridiculous international wireless delivery charge, and got the book. About eight hours later I was finished. Yes, this is a, "Don't interupt me I'm reading novel."
You can read my review of The Abigail Affair here
. After all that I had to get in touch with Tim, and invite him to spill the beans. Which he graciously agreed to do – herewith the beans.
"I thought, 'What the hell?' and uploaded it. I got some great reviews, and then it went from Smashwords on to Barnes and Noble and ended up in their Top 10 e-books with 14,000 downloads. I realized I should carry on writing, and that there was no need for an agent or a publisher any more." – Timothy Frost 17 December 2010

The Back Flap
Toby Robinson is 22 and broke. He lands a job as junior steward on a Russian billionaire's yacht in the Caribbean, and feels his luck is about to change.
It is, but not in the way Toby hoped. On his first night aboard he is framed for a brutal murder.
His attractive crewmate Julia seems to be the only one on his side. But can he trust her?
With his mobile phone confiscated, armed only with a winning smile and a flair for mixing cocktails, can Toby clear his name, stay alive – and foil the sinister international conspiracy that threatens to entangle him?
It's New Year's Eve and something terrible will take place at midnight. Time is running out, and so are Toby's options …
'The Abigail Affair' is a fast-paced suspense thriller with a touch of British humor.
About The Book
What is the book about?
It's the story of young British idler Toby Robinson, aged 22. He dropped out of Uni and has wasted the ensuing couple of years traveling and doing menial jobs. Now the cash has run out, and the Bank of Mum and Dad has called in his overdraft. He gets a job as a deckhand on a Russian oligarch's yacht in the Caribbean – and finds himself in trouble immediately.
When did you start writing the book?
April 2009
How long did it take you to write it?
About 18 months, but in spurts. When I am writing I produce 1,000 words a day religiously. Unfortunately (for my writing, if not my lifestyle) I have complicated commitments which involve me spending part of each year in the Caribbean. No, don't offer any sympathy. I have to cope with it myself. (Ed. note: "Harsh life, dude… ;).")
Where did you get the idea from?
After I retired from my day job my wife and I sold up and bought a yacht, sailed the Atlantic and spent two years cruising around the Caribbean discovering all the wonderful islands and their peoples.
One day we found ourselves in a marina in St Croix in the US Virgin Islands. We were tied up next to an enormous mega yacht 130 feet long (our boat was a more humble 40 feet). The owners, a wonderful elderly couple, invited us aboard for a drink. What an experience! This yacht had a swimming pool which retracted into the aft deck, staterooms like a hotel with enormous flat TVs, a gym, a sauna … our mouths dropped open. I thought, 'Suppose a baddie owned one of these? He could get away with murder …' and hence the idea was hatched.
Were there any parts of the book where you struggled?
The beginning, the middle and the end.
What came easily?
Everything else. No, I mustn't be facetious. I find writing very challenging. I was determined to make this book work, and was very self-critical.
Are your characters entirely fictitious or have you borrowed from real world people you know?
They are entirely fictitious, unlike my first novel, 'Final Passage
', where the main character is very, very loosely based on me.
We all know how important it is for writers to read. Are there any particular authors that have influenced how you write and, if so, how have they influenced you?
Michael Crichton – who makes you turn the page without even noticing.
Lee Child – his Reacher books are uneven, but the best ones constitute a master class in thriller construction.
Kingsley Amis – he only wrote one good book, 'Lucky Jim', but it is one of the funniest in the language. There are about a half-dozen tiny little references to 'Lucky Jim' in 'The Abigail Affair', for anyone who wants to look for them. Don't sue me, Penguin, it's just a word or two, in affectionate tribute!
Do you have a target reader?
Aged 15+, English speaking and with a sense of humor PLEASE!
About Writing
Do you have a writing process? If so can you please describe it?
I sit down at 9am and write until I have completed 1,000 words, then I stop, even if I am in the groove and could carry on.
Do you outline? If so, do you do so extensively or just Chapter headings and a couple of sentences?
Yes, I sketch out ideas very briefly on a single sheet of A4. 'Arrives at yacht. First setback.' That's sort of thing.
Do you edit as you go or wait until you've finished?
I write the whole thing, then go back and start revising.
Did you hire a professional editor?
No. Couldn't afford to. I hope it doesn't show too much!
Do you listen to music while you write? If yes, what gets the fingers tapping?
Absolute silence is essential or nothing happens except I get mad! Even my poor wife has to turn the radio off in the kitchen.
About Publishing
Did you submit your work to Agents?
No, for 'The Abigail Affair'. I submitted my first novel, 'Final Passage', which was written in 2003, to around 40 agents with absolutely no interest shown, and many quite rude replies.
What made you decide to go Indie? Was it a particular event or a gradual process?
'Final Passage' was written pre- e-book. After all the rejections it went into a drawer and languished there until a wonderful man called Mark Coker invented Smashwords. I thought, 'What the hell?' and uploaded it. I got some great reviews, and then it went from Smashwords on to Barnes and Noble and ended up in their Top 10 e-books with 14,000 downloads. I realized I should carry on writing, and that there was no need for an agent or a publisher any more.
Did you get your book cover professionally done or did it you do it yourself?
My friend Mike Lee, who is a professional graphic artist, designed the cover for 'Final Passage' in return for a bottle of champagne. I designed the cover for 'The Abigail Affair' myself using Serif DrawPlus.
Do you have a marketing plan for the book or are you just winging it?
I post occasionally in the various forums (fora?), trying not to be intrusive. You have to get your message out, but overkill can set in and give you diminishing returns if you're constantly blagging on.
I sent review copies to Red Adept, Kindle Cheap Reads and a few other blogs and sites. (No results from any of these to date, but I live in hope).
Any advice that you would like to give to other newbies considering becoming Indie authors?
Invest in a professional cover design unless you are sure you can do one yourself. I used to work in advertising , so I know what works graphically. Remember your cover will reproduce at a very small size, and in monochrome on the Kindle device.
Pick a catchy title that gives strong clues as to your genre.
Use all the opportunities Amazon provide to promote your work. Use every word allowed on the Product Description page. Start a discussion in your own Product Forum which they thoughtfully provide for you, and use it to add other angles to your selling pitch.
Until you're well known, price your book at under £1/$1.
Don't get angry with the negative reviews, or unduly downcast. They are a fact of the author's life.
Encourage other writers whose work you like. Don't knock other authors or complain about things in the forums or elsewhere. No one likes a whinger. I only post reviews of other indie authors' work if I think it merits 4 or 5 stars. Otherwise I keep my opinion to myself.
Join Goodreads and interact with readers and authors. You can make some real virtual friendships, and it feels less lonely when you know there are others like you out there with similar hopes and concerns.
Where do you live now?
Norfolk, England, and Grenada, West Indies.
What are you working on now?
The working title is 'The Film Crew Murders'. Pre-register your copy now. Only joking – I only just started! It should be ready for Christmas 2011.
I welcome feedback from my readers. My email address is at the end of each book.
End of Interview
Good solid advice for those new (and old) to the game! I don't know if you got it, but Tim embodies the Indie spirit. Get a good quality book in front of readers, price it reasonably and readers will come; and yes, have fun.
If you want to be entertained and if you like thrillers you could do a lot worse than by buying Timothy's book here
.