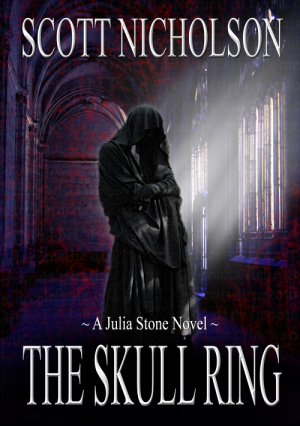 If you're a reader, reviewer or writer, you should spend some time reading what Scott Nicholson has written. And that's all I've got to say about that.
"Some writers say they only write for themselves, but I don't believe in that, either. I think about the story. Tell a good story." – Scott Nicholson 3 December 2010
The Back Flap
Julia Stone will remember, even if it kills her.
Dr. Pamela Forrest is determined to bring Julia's memories to the surface, hoping to heal Julia's panic disorder. The therapist keeps returning Julia to a night twenty-three years ago when Julia was four. A night of hooded figures, strange chants, pain, and blood. The night her father disappeared from the face of the earth.
Julia rebuilds the past a piece at a time during the mind-wrenching therapy sessions. But the line between the past and the present begins to blur. Julia finds a silver skull ring that bears the name "Judas Stone." The same ring had been worn by one of the hooded figures who scarred her both mentally and physically on that long-ago night.
Someone is leaving strange messages inside her house, even though the door is locked. The handyman, who has a key, spends a lot of time in the woods behind her house. Her boyfriend Mitchell becomes distant and violent. And the cop who investigated her father's disappearance has followed her to the small Appalachian town of Elkwood.
Now she has a head full of memories, but she doesn't know which are real and which are the creations of Dr. Forrest. The shadows of Julia's panic are growing larger and darker. But succumbing to madness seems safer than heeding the whispers that claim ownership of her body and soul.
~~~~
A mystery thriller from the bestselling author of DISINTEGRATION, THE RED CHURCH, SPEED DATING WITH THE DEAD, and DRUMMER BOY. Romantic suspense blended with a psychological thriller.
About the Book
What is the book about?
The Skull Ring is about Julia Stone's struggle to deal with terrible childhood memories while trying to reconstruct the past. And as the pieces come together, the past closes in after she finds a mysterious silver skull ring. Julia also has to trust one of the three men in her life, and the wrong choice could cost not only her heart but her soul.
When did you start writing the book?
I wrote this back in 2002, when I was just starting my publishing career. I've revised it several times since, and even did a recent revision where I made Julia a little tougher and stronger.
How long did it take you to write it?
Probably nine months in first draft, and a few months tightening it up.
Where did you get the idea from?
I'd read a little about Satanic Panic, which was largely a 1980's phenomenon, as well as the psychological casebooks of false recovered memories. Satanic cults still exist, though there are no overt supernatural tones in the book. It's a suspense thriller.
Were there any parts of the book where you struggled?
I wanted Julia to be weak and vulnerable initially and then grow stronger, but some people felt she stayed too weak, so I took a look at that.
What came easily?
I think the mind games between Julia and her therapist are fun. I've tangled with a counselor or two in my time. My philosophy is to always shrink your shrink until she is smaller than you.
Are your characters entirely fictitious or have you borrowed from real world people you know?
These guys are fictitious but based loosely on mountain types. I am reporter like Julia and I've been a handyman like Walter, though I've never been in a cult. Of course, that's what all cultists say.
We all know how important it is for writers to read. Are there any particular authors that have influenced how you write and, if so, how have they influenced you?
Wow. Pretty much every one, from the imagination of Dr. Seuss to the storytelling genius of Stephen King to the wordplay of Ray Bradbury and Shirley Jackson and James Lee Burke.
Do you have a target reader?
I don't really think about that. Some writers say they only write for themselves, but I don't believe in that, either. I think about the story. Tell a good story.
About Writing
Do you have a writing process? If so can you please describe it?
Write whenever possible, as much as possible, and then fix it.
Do you outline? If so, do you do so extensively or just Chapter headings and a couple of sentences?
I don't outline. How could I know where the story ends until I tell it?
Do you edit as you go or wait until you've finished?
It depends. I used to edit the previous day's writing as a warm-up act but lately I just have a better feel for it so I just keep moving.
Did you hire a professional editor?
No. I work as a professional freelance editor. I have a few beta readers, and Neal Hock always does a brilliant job on my final drafts.
Do you listen to music while you write? If yes, what gets the fingers tapping?
I often have, but not recently. Routines change as life changes. I need to listen to familiar music so I don't have to "listen."
About Publishing
Did you submit your work to Agents?
Yes, The Skull Ring actually got me my first agent, though we only sent it to one publisher, I think. People worry more about getting agents and book deals than they do about improving their writing. And that's backward.
What made you decide to go Indie? Was it a particular event or a gradual process?
It was a combination of panic and calculation. I had a couple of old books with no one to publish them, and the digital stars were aligning in the firmament. I've always been the self-reliant sort anyway.
Did you get your book cover professionally done or did it you do it yourself?
Neil Jackson of Ghostwriter Publications did mine in exchange for some formatting work, though I've taken a crack at a few, but I am not a graphic artist.
Do you have a marketing plan for the book or are you just winging it?
I get ads at Kindle Nation Daily and stay active in a number of communities and forums. So I suppose it's a combination. I've been doing this a while.
Any advice that you would like to give to other newbies considering becoming Indie authors?
Turn back. We're all doomed.
What are you working on now?
I am writing a thriller called Liquid Fear and have at least four other books to work on next year. I'm also putting together a couple more collections and a few more children's books.
End Of Interview
Scott posts valuable writing advice at his site Haunted Computer; I recommend you check it out.
You can see all twelve of Scott's books here. Or better yet, a novel idea, you can buy, The Skull Ring, at Amazon, B&N or Smashwords.